As portrait painters go, David Shrobe has trouble capturing his sitters. Then again, they may have departed long ago. Then, too, others may have silenced them forcibly and taken them away.
African American artists have a tough job—to give voice to the silenced. So does Farley Aguilar, a Latin American artist working in the United States, as I reported last time. They do it anyway. (I shall come later to other portraits of racial and male identity, in photo-collage by Paul Mpagi Sepuya.)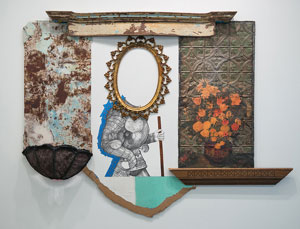 Found images and quotes from older art add to their flair and deepen their sense of history. Shrobe does just as much, though, by also giving voice to the silence.
Politics and portraiture have always gone together, just as with Renaissance princes—and with the same risk of sycophancy. Such talented painters as Titus Kaphar, Barkley L. Hendricks, Kehinde Wiley, or Mickalene Thomas risk leaving their subjects as shallow and glittery as their backdrops. Shrobe, though, has more in mind than a poster child for the black community. One face appears only as its outlines, the rest cut out of its heavy frame. Even then, the blackness of a silhouette succumbs to the light checkerboard of gridded paper. Another man loses his head and lower body alike to picture frames, leaving only a well-dressed torso floating in the space between them, as Ethereal Plane.
From what survives of their flesh, they were African Americans. Yet there, too, others have done their best to efface their identity. That torso holds out a sheet of writing paper, as if to deliver a message, but itself half cut off and entirely blank. A found shop sign pledges We Accept. Does it declare racial tolerance or just an acceptance of food stamps? Another sign, promising a "great buy," makes the act of effacement explicit with the starting letters of fuhgettaboutit.
Regardless, they belong to history, at Thierry Goldberg through February 12. That includes the history of the black community—and the history of their materials to back it up. As portrait painters go, Shrobe is also sparing of paint. He prefers pencil, reproductions, and assemblage. Even when he throws in a palette, it appears in pristine condition, with not a touch of oil color. It might be a cutting board instead anyway.
He invites one to imagine him scouring the streets, cherishing its signage and discarded picture frames, the more elaborate the better. He also invites one to look to other histories, meaning both black history and the history of art. The man with a message dresses for the eighteenth century, with the very definition of a free America already in doubt. Another body wears armor from a still earlier time, as Knight Shine. Is the warrior black or a European conqueror? Is he becoming free or taking others into servitude?
Shrobe has an obvious debt to Modernism as well as to older art. His methods go back at the very least to Robert Rauschenberg and to Rauschenberg's combine paintings. One work contains chair caning, like a Picasso still-life. Like many another black artist, he is also out to recover a people and their history. He dares one to feel their loss as well. And, as for so many working after Romare Bearden, that project begins on the streets of Harlem.
Like Kerry James Marshall, Shrobe is equally at home on the street and in the museum—and determined to bring them together. Like Marshall, too, he embraces what he sees as invisible men. He lacks Marshall's specifics of gathering places and individual lives, not to mention the exuberance and color, and then he casts doubt on just that. He asks to make up for it with acts of recovery. When his groceries include peaches, one might think of a breakfast table or the Deep South. When the picture frames lie empty but for wallpaper and weathered wood, one might hope to fill them once and for all.
Read more, now in a feature-length article on this site.