Was there ever an art so open to the future? Dada reinvented itself every day, but with no thought to tomorrow. The Bauhaus demanded a new beginning, but with a program. "A Revolutionary Impulse" shows the Russian avant-garde moving so fast that it could hardly know where it was going. It lived by a revolution, with support from Lenin, and it died by a revolution, with Stalin and Soviet Realism, but there was no turning back or turning away. Like the elements of its most revolutionary abstract paintings, it took the risk of floating, soaring, or falling in space.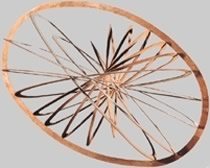 MoMA is having its own quiet revolution. Its 2004 expansion subordinated the permanent collection to hype and real estate, while exhibitions have descended to circuses and celebrities. Yet it has begun to use its smaller galleries and its collection for real history. Now it has to encompass many movements, through March 12, because Russian revolutionary art had more than its share. It places Rayonism, Suprematism, Constructivism, UNIVOS, Proun, and more within a single trajectory—where the last two acronyms share the words Affirmation of the New. They also do not refer explicitly to socialism or politics, a tension that began to eat away at their foundations even before they fell to repression.
They began even before the October revolution. As early as 1913, Natalia Goncharova and Mikhail Larionov were treating Cubism as a forest penetrated by rays of color and light. Kazimir Malevich was proving himself a student of Pablo Picasso and George Braque as well, right down to a soft palette of blue and gray. Prints by Olga Rozanova speak ambiguously to the terrors of war and the nobility of soldiers and workers. She could hardly know that the first would topple the tsar and then a democratic provisional government, while the second would become dogma. Later, with Malevich, Lyubov Popova opens up to colliding geometric forms on fields of white. For now, she could only insist, "we are breaking with the past."
They were, but not entirely. Her war series also draws on woodcuts for its clumsy edges and images like trumpets. And folk art continues to inspire Russian Modernism. It comports with a shared aim in art and Communism to bring modernity to everyone. El Lissitzky converts Malevich's red and black squares into characters for a children's book. Alexandra Exter designs costumes and sets for operettas and Othello—and never mind that the revolution, too, was to end in tragedy.
It began with no time to lose as well. Some art movements are close circles, the kind that might fit in a gallery opening or a crowded bar. This one has one leading name after another, including Wassily Kandinsky (on his brief return to Russia from Munich), Naum Gabo, Ivan Puni, Antoine Pevsner, and Vladimir Tatin. It also has women on equal terms with men. The curators, Roxana Maroci and Sarah Suzuki, devote entire walls hung high to a single artist. The arrangement suits works on paper more than the momentous quiet of Malevich's white square, but it echoes his floating compositions and the period's headlong rush.
It also gives due prominence to film. It opens with a collage of found footage by Esfir (or Esther) Shub, and it pauses midway for four silent classics. The revolutionary montage of Potemkin, by Sergei Eisenstein, and Man with a Movie Camera, by Dziga Vertov, plays out on facing walls. One follows the crew of a battleship to rebellion, the other the wild course of a single day. Yet something changes with that room—and not just with its political message. Something darkens as well, from the stern imagery of Earth by Alexander Dovzhenko and Mother by Vsevolod Pudovkin to Eisenstein's murderous Cossacks and a woman's bleeding eye.
The show's subtitle speaks of "The Rise of the Russian Avant-Garde," but its arc suggests instead a rise and fall. Earlier, the plywood tracery of Spatial Construction, by Alexander Rodchenko, casts its dizzying shadows on the wall. After the movies, he and El Lissitzky command a room for photography, with continued experiment but a greater chill. Rodchenko buries a woman in a grid of shadows and turns a street protest into an ant colony. Portraits of artists, poets, and a Pioneer girl close in on imposing faces and a gaping eye. They could be inspiring or terrifying.
A last room gives way to Soviet propaganda. It includes posters and postcards, with the shadow of Lenin's raised arm. It includes a People's Commissariat of Heavy Industry that looks more like guard towers. "The people" appear everywhere—but, as one of Rodchenko's photos already had it, "the workers are quiet." Art had become far too important for innovation, even before Stalin demanded just that. The future was no longer so open.
Read more, now in a feature-length article on this site.