He exhibited in the first wave of abstraction, as Cubism shattered into fragments of color. He met the founder of Dada in Zurich, and he caught up with the movement again when it shifted to Paris. He published with it and delighted in its machine esthetic.
He collaborated in theater, film, and dance with one each of France's most daring and celebrated composers, directors, and choreographers. He painted Spanish women, much as a Spaniard two years younger was turning back to realism.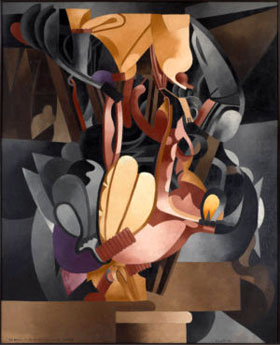 That Spaniard was Picasso, but the older painter, too, discovered Neoclassicism and then Surrealism. And then he declared that "figurative art is dead," at the very moment of the triumph of abstract painting in New York. Oh, and did I say that he sat out part of World War I here, just in time for the Armory Show, and World War II in Vichy France, painting in the official style and spouting anti-Semitism? He was, he declared himself, one "funny guy."
He could be the Zelig of modern art, but it did not take another funny guy to make him up. Francis Picabia had his signature work, much of it now in the collection of the Museum of Modern Art, but he did all he could to disavow the artist's signature. His retrospective, at MoMA through March 19, packs two hundred works into rooms claiming ten different periods—and it is the subject of a longer and fuller review, in my latest upload. You can forgive it if it throws up its hands and calls one period simply eclecticism. So who was he for real? Part of his contribution to Modernism was to question whether the question makes sense.
Actually, it still may. It all depends on which version of the artist one accepts—from a man with so many versions of himself. He may have devoted himself to one movement after another, or he could have stood apart from them all. The curators, Anne Umland and Cathérine Hug of the Kunsthaus Zürich with Talia Kwartler, argue for Picabia as the consummate trickster. They see an essential nihilism behind his many shifts, and they quote Friedrich Nietzsche, as he was wont to do in his lifetime. The full title of the show's messiest room is "Eclecticism and Iconoclasm," with the emphasis on iconoclasm.
A quote from the artist highlights the very idea of change and supplies the show's title: "Our Heads Are Round So Our Thoughts Can Change Direction." If the joke seems awfully lame, that accords with another version of Picabia. Maybe his signature works, mostly abstract and all from 1912 to 1920, were his signature. Maybe he floundered after that, all the way to his death in 1953. A noted critic has argued much the same for Pablo Picasso apart from Cubism.
Maybe, too, he came into his own only later—or even after his death. His grab-bag of styles and media looks forward to Postmodernism and art now. So does his use of Ripolin, the premixed enamel, or his paintings after photography and porn. So, too, do his evasions and irony. One could mistake some of his most enigmatic realism for the work of Sigmar Polke or David Salle in the 1980s. The most garish paintings from Vichy France have become some of the show's most popular on Facebook.
And then there is Zelig. Maybe one can make sense of Picabia only by watching him change, from moment to moment. It can bring out the truth in all those versions of his art. It can show him always in the middle of the action but never altogether there. He may not have left much in the way of great painting, but it becomes easier to see why. He was always looking ahead, looking aside, and looking back.
Read more, now in a feature-length article on this site.