I shall review a show of architecture and interior design tomorrow. Allow me, then, in preparation an extra post today that somehow fell through the cracks this winter.
Maybe Modernism was only a dream, but there are still visionary architects. "Dialogues: Art and Architecture" insists on them, as part of an extended dialogue between the practice of architecture and the creative imagination. Not every architect is an artist, but architecture is still an art. It participates, too, in modern art's dream of transforming life.
The show lists its participants as equals, at Nancy Hoffman through January 28, but it boils down to the firm of Hariri & Hariri, complemented by a selection of gallery artists. They challenge one to decide where painting and sculpture end—and where planning and modeling begin. They also challenge one to decide what the firm could conceivably have built. The answers, at times, surprised even them.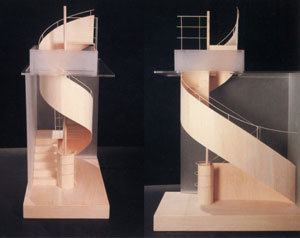 The two sisters speak of themselves, too, as between art and architecture, and that still earns them a degree of skepticism or scorn. Architects, after all, are supposed to worry about practical matters—in the interests of clients and in the interest of earning a living. They approach their scale models, though, as art or craft for its own sake. Wood takes on delicacy and detail, with accents of metal and glass. Broader surfaces, in sweeping curves, reflect ambient light. Whole towers are lit from within.
The interaction of structure and light interests them, as part of the interaction between a building and its environment. It also leads them to structures that rise above their surroundings. Embracing Towers, from 2003, would have nestled into one another, shaped like twin piano pedals. Beacon of Light, in stone from 1988, resembles a candle holder from an ancient civilization, piercing the fog that keeps cultures apart. Fog Habitat, meant for San Francisco in 1994, would have formed a bridge through the fog, suspended on two narrow towers barely large enough for an elevator and stairs. A more sober bridge, meant for Korea in 1988, would have spanned the DMZ.
Born in Iran and educated at Cornell, the architects have every right to bridge east and west. And the show's most recent project, for Iran, actually got built. They were not always so lucky. Möbius Strip Hybrid Stair, a spiral staircase nestling a more direct vertical, proved technically impossible. The firm has also appeared in "Contemplating the Void" for the Guggenheim's fiftieth anniversary—in honor of another often impractical visionary, Frank Lloyd Wright. But then the idea of architecture as a dialogue with nature or the imagination runs through Modernism and Romanticism before it.
Others in the show touch on art and architecture as well, if at times only tangentially. Don Eddy paints New York's bridges and skyline in a crisp photorealism, with the accent on sky, glass, and metal. Ilan Averbuch approaches a spiral stairwell in ceramics and stone, Rupert Deese takes up fog off a California river in monochrome, Mark Calderon thinks of his bronze animals as archaeology, and Sarah Bridgland does her modeling in paper collage. Painting for Richard Purdy has the pixels of computer-assisted design, product logos, or primitive video games, while Linda Mieko Allen incorporates marble dust into a hybrid of fractal geometry and sunlight. Hariri & Hariri recap Modernism now and then, too, with a square tower crossed by a plain lattice, stilts out of Le Corbusier, and a covered plaza like the Lever Building. They seem happier, though, dreaming of more.
One can take comfort in the failures of visionaries—and not just for the leap of faith. It comes as a reality check as well. One may wonder whether anything these days cannot be built. The undulating skins of Frank Gehry might suggest otherwise, but the obstacles are real. One can dismiss much urban design as utopian, assuming it were even worth building, from Buckminster Fuller to Latin America today. Yet one can always call it art.
Read more, now in a feature-length article on this site.