The Museum of Modern Art may not work terribly well as a space for its collection or indeed for art. It could, though, make a terrific showroom. MoMA supplies a thoroughly mainstream history of "the modern interior," and surprise: it looks a lot like high-end commerce today—and I have added this to an earlier report on Pierre Chareau in modern architecture and design as a longer review and my latest upload.
Imagine MoMA's embrace of Björk as just one step toward merchandising the entire collection. Imagine the atrium as a trade fair, with Kai Althoff upstairs in charge of its warehouse. And now the third floor is itself a furniture showroom, through April 23, as "How Should We Live?"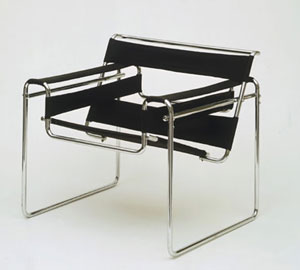 IIt shows some of the twentieth century's best-known architects and designers coming together for shared projects and a more widely shared style. t shows coveted names, like Eero Saarinen for his womb chair by or Isamu Noguchi for his cylinder table lamp, more often than rare finds. Yet it also shows architecture and design coming together on behalf of a space for living.
It is not, though, easy to pin down. It is not about individual careers or a fuller history of modern design. You can enter its maze of model rooms and display shelves at any point, and you can leave thinking of it all as a single high-end design center somewhere today. It is not about a movement or a school, like the Bauhaus, although Mies van der Rohe and Marcel Breuer loom large. Half a dozen contributors riff on the former's tube chairs, while Breuer enters modestly enough with a tea cart. With details down to door handles, a food grinder, an old black telephone, a Bakelite radio, and a bedframe, nothing is beneath attention.
For all that, it is also not quite about transforming the modern city, although Le Corbusier brings his influence as well, along with that bedframe. We in the show's title is ambiguous: while these designers are posing questions for modern life, they are often designing homes for themselves or each other. The exhibition takes its title from a poster by Willi Baumeister, bearing a slashing red X—which the curators, Juliet Kinchin with Luke Baker, take to stand for a century at a crossroads. Mostly, though, it has already made its choices, to the point that visitors may feel right at home. You may want to plop down in one of those steel and leather chairs.
And you can, for the show also recreates a 1927 Velvet and Silk Café by Lilly Reich with Mies furniture—with fresh coffee from stylish drip pots and a lovely view of the sculpture garden below. Much else, too, showcases the work of women, often in collaboration. Early on, Eileen Gray furnishes a vacation home for an architect and editor, Jean Badovici, and Grete Schütte-Lihotzky designs a Frankfurt kitchen. During the Depression, Anni Albers (an abstract artist in her own right) provides upholstery and wall coverings for her husband Josef, Aino and Alvar Aalto form their design company, and Marguerita Mergentine remodels an apartment for Frederick Kiesler. Later Charlotte Perriand works with Le Corbusier on student bedrooms at the Maison du Brésil in Paris, and Florence Knoll devises the display space with Herbert Matter for an actual New York showroom. As one last collaboration, Ray and Charles Eames tackle prefab housing in LA, with colorful grids after Piet Mondrian.
They have much in common beyond tube chairs. They prefer plain geometry and bare tables, but with organic forms in art on the wall—including a still life by Arshile Gorky and a tapestry by Jan Arp. They tend, too, toward small apartments even by New York standards, and Philip Johnson works out his thoughts right here in the city. The common elements also suggest common tensions within Modernism. Would their designs be comfortable or Spartan? In stacking and recombining prototypes, is their vocabulary flexible or a new dogma?
They are asking not just how we should live, but also who are we. The show moves outward, much like the Bauhaus in America—ending in Tokyo and California. Although Gray worked on affordable housing soon after World War I, it also moves from private projects to a way of life for others. What began as a vision was becoming at last dorms and prefab apartments. The show may never figure out whether it describes a distinct style or competing histories. It does, though, look as familiar as a showroom today.
Read more, now in a feature-length article on this site.