Most decent artists are in constant dialogue with their art. An exhibition of Iman Raad even has a message for him on the way in.
The Hero stands more or less life size and more or less proud, a pennant raised above its bright orange face. It is a literal stick figure, in scrap wood with a makeshift easel for its chest and legs—and the easel bears a work in progress of its own. The portrait looks suspiciously like a stand-in for the artist, its studious face divided and overlaid with text: your body-of-work is a battleground.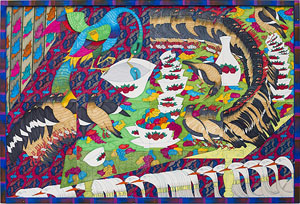 The battle rages. Birds pack into and candles burn in paintings that refuse to accept the still in still life. Fruit spills out from white bowls painted with more fruit. The panels rest on patterned shelves, because color just cannot stop at their edges. Raad decorates the sticks of the stick figure as well, and the bright blue sticking up from either side of its comically round face reminds me of nothing so much as the pointy haired boss in Dilbert. The gallery's very office becomes a wall painting, at Sargent's Daughters through April 23.
It also becomes the one obvious battleground. At its center, a grisly Middle Eastern face glares out from a warplane with buttocks for a cockpit and phalluses for jet engines. Fires with their own grim faces burn on all sides, leaving figures of woe packed into the corners. Still, this is a Lower East Side gallery office, and Raad straddles East and West, with a hint that he has left the very worst behind. He looks at once to Islamic art, Henri Matisse, and the modern still life—and no wonder. He is an Iranian and a graduate student in his late thirties at Yale.
Plainly politics is on his mind, but he seems eager to leave that behind, too, for a more hopeful future. The likely self-portrait quotes Barbara Kruger both visually, with block text on black and white, and with its words. Yet it converts Kruger's alarming red bands into a more playful purple, and it lightens her feminist message: your body is a battleground. Notwithstanding the show's title, "Tongue Tied," sheer exuberance has the last word. The appropriation of the "Pictures generation" becomes one more excuse for excess.
He comes closer still to Pattern and Decoration. (He follows the most colorful show yet of Robert Kushner in Chelsea, at D. C. Moore through March 11, with a similar emphasis on still life, scale, and overlays.) Raad approaches Rococo period rooms as well, such as Jean Honoré Fragonard and François Boucher at the Frick. Panels serve as paintings, furniture, and wallpaper. That points to his stylishness and ambition, but also lightness of tone. One need not take his battles too seriously.
Still, there are signs of melancholy, only starting with the portrait divided between black and white. The hero has a painful smile, candle flames reverberate in the fiery field of battle, and one candle lies broken in half while still aflame. A second and larger easel stands at the back of the gallery, as Unnameable, with the painting of a single flower. This time, though, the sticks flail out in every direction and threaten to bury the raw canvas. Raad still comes down on the side of pleasure, but he has received a warning. The decisive battle is yet to come.
Read more, now in a feature-length article on this site.