With my theme political art this week, allow me to post a review that somehow never appeared. How could anything so dreamy have become a symbol of imperialism and militarism? Vieques, off the coast of Puerto Rico, quite literally made an easy target. The United States used it for bombing practice until fourteen years of protests, starting in 1999, ended with the navy's withdrawal.
Visitors and natives, though, know it for something else again. Its secluded beaches are perfect for snorkeling or ecotourism, in what is now a national wildlife refuge. Microorganisms in its pristine waters give rise to the name Bioluminescent Bay.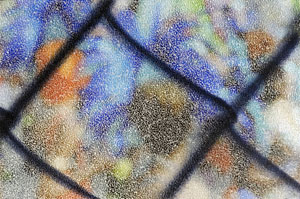 Paul Anthony Smith captures the luminescence and seclusion, in his seven tall photographs at ZieherSmith through this last February 4. Some show the island's palm trees, clear skies, and blue-green waters. Others took him to Brooklyn on Labor Day, for the annual West Indian Day Parade. It appears less as the "Procession" of the show's title than as erotic dancers and rapt faces. Still others superpose the two. Yet Smith means them to stand as well for barriers and confrontation—and I have added this to other recent reports on photography and New York as a longer review and my latest upload.
Each work has its own overlay, only starting with photos of chain-link fences. Smith also belongs with painters and photographers bridging media. Spattered paint takes the shape of cinder blocks, in places pricked or scraped away—what he prefers to call picotage. Smaller works close in on the fencing, for a double X. They also blur the underlying image, approaching a collage of bright color. Here the white spatters cover the entire surface.
Cultures meet and merge—and not just in Puerto Rico and Brooklyn. The patterning produces shards of white and clear colors, much like painting from Cubism to Minimalism. The dots of paint and scraping have a tactile quality as well, as in paintings by Allison Schulnik at the same gallery. Born in Jamaica and raised in Miami, Smith embodies a cross of cultures all by himself. Titles add to the sense of a celebration, with quotes from jazz classics by John Coltrane and Miles Davis. Maybe by coincidence, they date from the very height of abstraction in America.
Still, the artist has in mind a confrontation. The images appear behind walls and fences—or as walls and fences. Picotage takes an act of violence to their surfaces. Smith recalls the Battle of Jericho, when the walls came a tumbling down. (Now there is a trumpet not even Miles can match.) He would have heard the Bible story in church as a child, much like the people in his photos.
He also has in mind the legacy of conflict and colonization in Biblical lands today. Maybe, but that can make him something of an ecotourist himself. It can diminish the reality in actual photographs from the Middle East. When the Brooklyn Museum called a show "But a Storm Is Blowing from Paradise," it was not thinking of hurricanes interrupting tourist season in the Caribbean. Just as important, it can diminish the pleasures of his settings and his work. In their clarity and lightness, his walls have outlasted Jericho.
Read more, now in a feature-length article on this site.