It takes a village or two. Simone Leigh has created one, fashioned after Zimbabwe "kitchen houses" of clay and thatch. And then she has dropped it into into Harlem—in the northeast corner of Marcus Garvey Park, where one can no more enter her three huts than the rockface behind them or the housing projects towering above. Two weekends now after Memorial Day and (finally) warming up, are you getting out and around the city for a long walk? Start there, and then let me show you around!
An artist who has made shower curtains into undershorts, herbal medicines into a poor excuse for political activism (at The New Museum this past fall, through September 18), and a woman's back or cowrie shells into obscure objects of desire,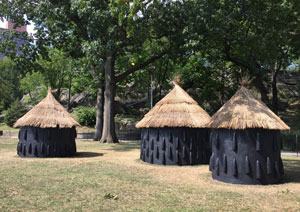 Leigh speaks of her village as "locked up while its owners live in diaspora." They could, though, find shelter in the trees overhead or the locker rooms, public pool, and recreation center also in the park nearby. They will have come a long way, and they may have already found a home.
"inHarlem" gives a high-tech label to a low-tech walk through the community, organized by the Studio Museum in Harlem through July 25. It extends from Madison Avenue to Morningside Drive to the west—and then another two miles to the north. It invites four artists to mark their own green space, one to a park. And it sees their surroundings as a place to live and to play, even as gentrification brings its displacements. As I entered Morningside Park, a white sunbather lay oblivious to passing eyes, in what once served as formidable wall between Columbia University and a neighborhood at risk. Now the show's very title invites one in—and, together with an earlier report on a prominent black sculptor, Richard Hunt, it is the subject of a longer review in my latest upload.
Not that the artists are unaware of racism, displacement, and danger. Rudy Shepherd has documented the Superdome as a site of displaced persons after a disaster, and Kori Newkirk has displayed a shopping cart, in "Blues for Smoke" at the Whitney Museum, as an emblem of life on the streets. Here, though, Shepherd marks the north end of the walk in Jackie Robinson Park with a "negative energy absorber." Black Rock, actually concrete over wood and metal, takes its shape from Manhattan bedrock. It means in turn "to dispel people's feelings of racial prejudice, violence, or ordinary disdain by opening them to more compassionate aspects of their personalities." And Newkirk imagines St. Nicholas Park, itself a half-mile rock wall, as "the site for a ceremonial procession."
Well, O.K,, and Shepherd sees Harlem more through the eyes of Henry Moore than of its residents. As for Newkirk, maybe Sentra sounds more like a Nissan model, but it does, he swears, denote "sexy creative energy." Still, anything would look good just past another public pool, and Newkirk knows a thing or two about reaching out. In "The Bearden Project," at the Studio Museum in homage to Romare Bearden, he turned paint cans into a game of telephone. In his own show, six years after his appearance there as an emerging artist, his marks of post-black identity included human hair and beaded curtains. Here reflective strips hanging from goalposts create curtains visible from across the street.
"inHarlem" turns to artists familiar from past shows, which is O.K., too. As curator, Amanda Hunt is bridging the museum and the community. Kevin Beasley appeared in "Fore," the museum's 2013 survey of emerging artists and, like Leigh, as an artist in residence. There he left his mark in stained and folded surfaces. Later, a 2014 show on the American South, he simply amplified the surrounding silence. Now he combines the two by framing a field in Morningside Park with three "acoustic mirrors"—like satellite dishes steeped in torn t-shirts and paint.
The shirts have lost their identity, but the dishes have not altogether lost their sound. Beasley calls them Who's Afraid to Listen to Red, Black, and Green and chooses their colors from the African American flag. The title also echoes Who's Afraid of Red, Yellow, and Blue by Barnett Newman, the Abstract Expressionist—because Harlem is also part of New York, and it covers a lot of ground. The installation takes considerable hunting out, and the museum provides few clues. (For what it is worth, Beasley claims the park's southwest corner, atop the 114th Street stairs.) It takes more than a village: it takes art and the city.
Read more, now in a feature-length article on this site.