As a follow-up to last time on the Whitney Biennial, how could I not turn to this? It has become the occasion for reflection on both racism and the possibilities of political art.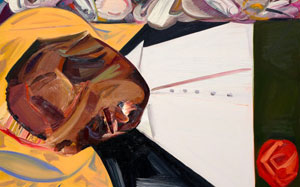 What a difference a day makes. One day Emmett Till was just a poor child from Chicago, a polio survivor, visiting relatives in the South. He counted white children as his friends. The next he was the victim of bigotry and a brutal murder. The fourteen-year-old became an emblem of injustice and a spur to the budding movement for civil rights.
Dana Schutz, critics note, has had only privilege—the privilege of a white artist from a comfortable Detroit suburb making it in the art world. Yet she, too, has become a symbol. At just forty, she was among the stars of the most widely celebrated Whitney Biennial in memory. Horrified by police shootings of blacks in the present, she looked back to Till's death in 1955 and painted him in Open Casket. Reviews singled it out in a singularly political and diverse biennial. For the city's most influential critic, Roberta Smith in The Times, it "doesn't picture his wounds so much as the pain of looking at them."
And then in a day her fortunes, too, had changed. A black artist called for her boycott on Facebook. A black writer called for the work's removal and destruction. They accused Schutz of appropriating the African American experience for the benefit of a white woman. The controversy erupted into the press and consumed social media—and I have waded more deeply into the controversy in a longer review and my latest upload. What does it say about the role of art in a racist and divided America?
How dare she? The question recalls the furor over The Confessions of Nat Turner by William Styron, but it is all the more pressing now—for blacks and women alike have little to gain and so much to lose in Donald Trump's America. The week of the debacle, a white man traveled to New York City with the sole aim of killing African Americans, and women barely escaped a repeal of Obamacare and its provisions for women's health. It is pressing, too, because has art its own divisions, and many feel excluded. Surely many of the protestors do, and they were acting out that feeling of exclusion in decrying a white woman's success at their expense. They were demanding attention, and for better or worse they got it.
The question is also pressing, though, because it is so puzzling. No one complained when whites joined in the civil rights marches and when white journalists brought those marches alive—although Dana Schutz herself worked from a photograph in Jet, a weekly founded by an African American. No one complained when protest singers added their voices, including Bob Dylan with "The Death of Emmett Till," or earlier when Billie Holiday sent chills down the nation's spine with "Strange Fruit," by a Jewish songwriter and about a lynching. Rather than telling whites to shut up, blacks are wondering why Trump will not speak up to denounce that murderer in New York. The women's march after Trump's inauguration welcomed men, and Jews still decry white indifference that turned refugees back to their death in the Holocaust. What makes painting or, more generally, fiction more open to criticism?
Why should a white artist lose her voice? I hear two reasons. First, Schutz is appropriating black experience for personal profit. Second, she cannot speak for what she cannot experience. I want to argue with them both, although African American artists do indeed have experiences apart that they can communicate, too. I shall have to skip over them here, but the longer article looks at criticism of the painting at hand and dives into those questions about profiteering and empathy, with all their implications for political art.
That seems to leave things where they started, with the enigma of what makes art so different from other ways of communicating. How can people even be arguing about this? Why are they not celebrating Schutz or simply dismissing her? It comes down to two things. First, art is powerful. The protests diminish art as a mere luxury compared to writing, marching, or music, but it sure has them worked up.
Second, art is ambiguous as other protests are not, because it bridges public and private matters. Artists work for themselves and for others, and one person's expression of grief is another person's grievance. They are shaped by their art, by their imaginings, by their joys, by their sorrows, by their histories, by race, by class, by gender, and by others as well. Together, though, those factors empower art, political or not. Art alone cannot ensure justice or empathy, but it can awaken both. Schutz can speak to concerns beyond herself, just as African American art can speak to me.
Read more, now in a feature-length article on this site.