If you have time on your hands, you can idle away as much as you like at "The Arcades: Contemporary Art and Walter Benjamin." Benjamin himself began The Arcades in 1927 as a short meditation on Paris, but it consumed the rest of his life.
The Jewish Museum starts modestly, too. It pairs just one artist with each chapter of Benjamin's unfinished project, through August 6, most with a single work.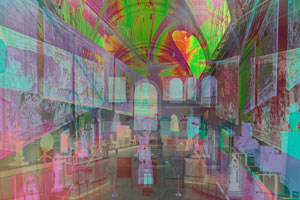 And then it invites you to linger over the three dozen selections, as a busy biennial or an evening in the galleries never will. It does not hold together, but then neither did Paris. It seems at times to belong more to the curators than to either the artists or the German writer, but you can claim it for yourself. I give a complicated show a longer review as my latest upload.
Walter Benjamin is best known for asking whether the work of art retains its authority in the age of mechanical reproduction. (Today he might say digital.) This show brings art and ideas together to put them both to the test. You can imagine yourself meandering at leisure, much like him in the vaulted shopping centers of the last century. You can wonder at what it means then or now to embrace the present. And then, like the arcades for him, it gets totally out of hand, in a frustrating but intriguing jumble of past and present.
Benjamin did not coin the term flâneur for the archetypical urban stroller, although he gave it a chapter. He did not even popularize it, for his book did not see the light of day until 1982, more than forty years after his death. It appeared in English only in 1999—fittingly enough, at the dawn of a millennium. Still, he has come to typify the ideal. It fits with his fascination with half-hidden passageways and consumer society. It fits as well with his aphoristic style and his love of literature and history.
For all that, Benjamin was no idler. He came to Paris not for shopping, but in flight from the Nazis, and he left the book unfinished when he fled yet again. He committed suicide when denied passage to Spain in 1940, on his way to the United States. A Marxist, he is associated with the Frankfurt School, although he never managed to teach at its Institute for Social Research—or, for that matter, anywhere else. Still, he shares with such theorists there as Max Horkheimer, Theodor Adorno, Herbert Marcuse, Erich Fromm, and Jürgen Habermas a belief in both reason and subjectivity. For Benjamin, philosophy had room for Karl Marx and social movements, but also Charles Baudelaire, the railroads, the Seine, the catacombs of ancient Paris, and the city as the site of prostitution and gambling along with the stock exchange.
He gave each of them a chapter or convolute, after the Latin for bundle. And the project grew to encompass literary history, theories of knowledge, and the failed revolution of the Paris Commune in 1871. He really did have time on his hands, and you had better, too. You will need it to get lost along with Harris Epaminonda and Daniel Gustav Cramer in their Infinite Library of gutted and reordered books. You will need it to find your way with Taryn Simon through the image archives of the New York Public Library, sorted into such categories as women, wallpaper, and buildings. Benjamin might have understood.
Each chapter gets a complex layering of art and text. Some art comes with its own, like a mandala of encircling words by Simon Evans, as The Voice. Wall labels add more—and then Kenneth Goldsmith contributes a poem of found text to each, out of anything from the social sciences to fiction. Bret Easton Ellis and his hard-driving 1980s accompany the stock market. Goldsmith in turn shapes his text into images, such as a smile or meandering curves for the streets of Paris. This is one convoluted convolute.
For all that, this history has many cunning passages. And the art works best when it turns on the collision between past and present. One becomes a flâneur in both space and time—right along with Bill Rauhauser, the self-styled "flâneur of Detroit." As idlers go, he does not shy away from precision with his photograph of a compass for drawing, but then the whole show has its circles upon circles. It is part of Benjamin called "a waking world . . . to which that dream we name the past refers." A pity that he did not live to put this past behind him.
Read more, now in a feature-length article on this site.