Irving Penn was not just a fashion photographer. The Met insists on it, by opening and closing an abundant survey of his work with still life, like the remains of a meal. It catches a man lighting a woman's cigarette, a girl drinking, and a woman resting her chin on the bridge of a man's nose. Yet there, too, Penn takes pains to compose the apparent artlessness—and I have added this to an earlier report on his photography as a longer review and my latest upload.
The show celebrates the centennial of his birth and a massive gift from the Irving Penn Foundation, filled out with work from the Met's existing collection, through July 30. It includes the peoples of the Andes, Africa, and the South Pacific along with celebrities.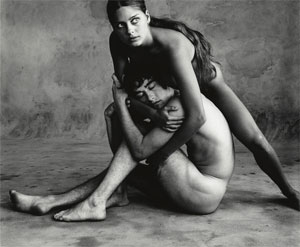 It includes workers in London, Paris, and New York—along with cigarette butts that they might well have thrown away. It includes storefronts that are anything but this year's model. It includes nudes in contortions that preclude dressing for a ball. Still, they are all posing, and together with the photographer they are all putting on a show.
To be sure, Penn did not just work for Alexander Liberman at Vogue. He bought his first Rolleiflex Twin-Lens Reflex camera in 1938, while a young assistant to Alexey Brodovitch at Harper's Bazaar, and the Met sets a later purchase out front. He continued working in advertising while at Vogue, and he would probably have made much the same choices even if they were not to appear in print. The headless and legless nudes did not go over all that well at first, the cigarettes even less so. A show last year called them his personal work, and their grainy prints foretell the dark totems and darker cavities in sculpture by Louise Bourgeois. Yet they, too, pose upright for the camera, and still later cigarette packages and flowers look like modern dancers.
The curators, Maria Morris Hambourg and Jeff L. Rosenheim, speak of "face and figure, attitude and demeanor, adornment and artifact." Even early street photography sticks to surfaces, with shop signs and shadows. Still life may come with titles like Theatre Accident and Salad Ingredients, but anyone at the scene of the accident or the kitchen has vanished for good. Portraits from the 1950s warmed up his sitters with coffee, to present them "honestly," but Richard Burton seated at a table, his arms commandingly in front, will never let his hair down. That "personal work" already included Pablo Picasso dressed as a matador, only even more stylish.
The photographer has much in common with Picasso at that. He, too, changed subjects and styles again and again—and he, too, kept returning to both, like an aging Picasso to his lovers. Penn sets his "existential portraits" from the late 1940s in a corner, for the physical presence of a confined dancer, like Jerome Robbins, or the emotional presence of a confined artist, like Marcel Duchamp. And then he repeats the device for sitter after sitter. Like any a commercial photographer, he is packaging fashion as sex and high style. Yet he is also stylizing sex as high fashion.
The nudes make that stylization obvious, with their reference to the Paleolithic Venus of Willendorf. Readers found their sexuality as disturbing in a fashion magazine as their fallen breasts. Yet his travels, too, were a matter of style. A butcher or a knife grander carries off his costume and the tools of his trade very much like a model with hers. The people of Peru, New Guinea, or Dahomey flaunt their native dress and adornment. Editors at Vogue delighted in their concern for clothes, makeup, jewelry, and theater, just as in the West.
Amazingly, Penn packed all that into just a few years around 1950, although he continued working almost to his death in 2009. (He joined Vogue in 1943.) He preferred his studio to the street, even with those workers, and he took a soiled stage curtain with him as a backdrop. Its shades of gray enrich the prints, setting off the contrasts of dark and light, suits and gloves, or lipstick and flesh. He favored black and white, although the magazine more often ran his work in color, just as he favored platinum palladium prints for their tonal richness and glamour. Even among writers and artists, he preferred sitters with a sense of style—like Salvador Dalí, Tom Wolfe, or Saul Steinberg with his nose sticking out of a paper mask.
Was he bringing fashion to the detritus of ordinary life or subverting fashion all along? The Met puts him firmly in the commercial mainstream, while arguing for the diversity of his achievement. Yet it raises questions, too, only starting the heavy gloss of his fashion shoots. Is Penn alive to native cultures—or indulging in primitivism and cultural appropriation on behalf of a very western industry? What would I think if his rag and bone man in London then were a homeless person in New York now? And what if he is right, and nothing lies behind the curtain, not even a magician or (for William Butler Yeats) "the foul rag and bone shop of the heart"?
Read more, now in a feature-length article on this site.