Summer group shows are like art fairs without the tourists and collectors. They carry the same promises and the same dreadful sense of obligation, even as the crowds have left town—perhaps for another art fair.
The summer of 2017 brings little in the way of a trend, but then a trend is hard to find anywhere now apart from anything goes. To add to the confusion, a dozen galleries even mimic art fairs by hosting artists from galleries from out of town and abroad.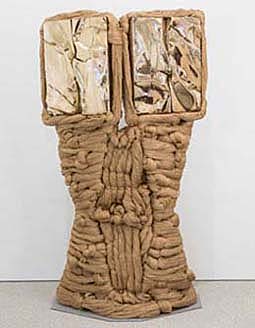 This year does, though, bring some more than halfway creative shows. How about a quick tour? I have also wrapped this in with an earlier report on abstraction in summer, as a longer review and my latest upload.
Art fairs without gawkers and buyers must sound like galleries without artists or a future—but I would not rule that out either, alas. It might be the last remaining avant-garde. Yet summer shows do make me think of fair week. They, too, offer the chance to take stock or to catch up. Bitforms even calls its show a fall preview (through July 30), including video as sculpture in, he explains, four dimensions by Gary Hill and swirling video colors by Sara Ludy. Like fairs again, they also tempt me to sit them out.
Who needs yet another forced theme or unthemed sprawl? Not that recaps of old and new friends are all bad. Canada gallery makes clear that it has some shocks left (through July 21), with a full room of streaming black cords by Heather Watkins approaching life forms—and with art between torn clothing and posters by Kristan Kennedy visible on the back wall. Lennon, Weinberg allows gallery artists like Jill Moser and Melissa Meyer to choose counterparts and influences (through September 16) that, often as not, blend right in. A stalwart defender of abstraction like McKenzie can approach routine, but several artists there go big (through August 12), including Plexiglas triangles high on the wall by Doreen McCarthy and wide brushstrokes by Andrea Belag. Don Voisine shows that he need not use black to add translucency or to unsettle his symmetry.
Not all themes are forced either. At their best, they may even sound routine. In the case of women artists, make that overdue to sound routine, and Michael Rosenfeld makes the point in its exhibition's title, "The Time Is Now." It also has the commitment and resources for a credible history (through August 4). It outdid the Studio Museum in Harlem with its survey of Alma Thomas, who again appears. So do the likes of Magdalena Abakanowicz, Grace Hartigan, Louise Nevelson, Lee Krasner, and Joan Mitchell.
Not everything, though, is a textbook history of the late twentieth century. In accord with its program, the gallery includes such black artists as Thomas, Betye Saar, and Barbara Chase-Riboud. It also reaches back to Surrealism by Dorothea Tanning, Kay Sage, and Irene Rice Pereira, along with early fabric art by Lenore Tawney. Lee Lozano looks unusually sleek in her machine-inspired abstraction. Perhaps the first drip painter gets her due as well. Janet Sobel was not just an outsider artist.
Galerie Lelong, too, has a shot at what is becoming the usual (through August 5). After retrospectives of Lygia Clark and Lygia Pape, plus one this very summer for Hélio Oiticica, it must seem that museums can no longer get enough of Latin American art or Neo-Concretism. Yet one can almost forget that Grupo Frente in Brazil was indeed a movement—one that could make the elements of geometric abstraction pop. "Brushless" at Morgan Lehman (through July 28) has to sound like more business as usual. A roller, a rubbing, or a palette knife should not come as a surprise, not even in such capable hands. Still, poured paint from Carolanna Parlato, shaped by tilting the canvas, and hard edges by Halsey Hathaway, made with an atomizer, had me wondering that they pulled it off.
The most ambitious theme may well be the simplest, with two full floors of "White Heat" at Marc Straus (through July 30), for all its limits. It cannot offer white painting by Alberto Burri, Robert Rauschenberg, Jasper Johns, Agnes Martin, Valerie Jaudon, or Robert Ryman—or lattices of white cubes by Sol LeWitt. It includes sculpture, where a patina of white is more an option than a reduction, even with deadly nightshade covered in frost by Jeanne Silverthorne or a brutal torso by Nicole Eisenman, like a horse by Raymond Duchamp-Villon as a frat boy. Mostly, it eschews color in favor of a textured surface, with Europeans more concerned for elegance than a revolution. Yet it, too, reminds me of summer. Even in off season for galleries, the heat is on.
Read more, now in a feature-length article on this site.