If God has spoken to an artist face to face, it would have to be Rembrandt. Could that be why Rembrandt kept returning to a man who spoke with God? With "Divine Encounter," through August 20, he takes up the life of Abraham—and I have added this to an earlier report on "Rembrandt's First Masterpiece" as a longer review and my latest upload.
Kidding aside, Rembrandt always thought of belief in personal terms. He shows the patriarch prostrate on the ground, unable to face God, humbled by the promise of a son and a covenant with the Jewish people. He shows him hearing again the promise, from three strangers who will reveal themselves as angels and then as the voice of God.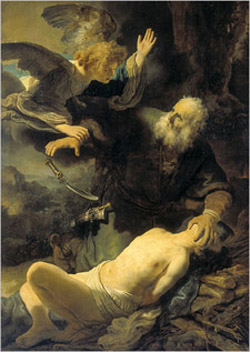 He shows him facing God's command to sacrifice that promised son, Isaac—and acting on that command even as an angel interrupts the sacrifice. He shows him casting out an older son, Ishmael and the boy's mother, a mere serving woman, while unable to turn his back on them. In every case, Rembrandt shows Abraham coming to grips with the strangeness of the divine, only to rediscover the terror and confusion of his own humanity.
The Frick borrows a single painting less than nine inches wide, perhaps an oil sketch for a lost or never completed major work. With that and just eight prints and drawings, it has staged a small show in every respect but its artist. The painting, from a private collection, shows Abraham Entertaining the Angels. The patriarch has welcomed three strangers—in anticipation of the commandment only much later, through Moses, that "you shall not wrong a sojourner or oppress him, for you were sojourners in the land of Egypt." Abraham raises a pitcher, its lid just slightly ajar, and a bowl to receive its content. Will he ever deliver sustenance to strangers in a strange land? It depends on what anyone can know about the needs of the human or divine.
A man addresses Abraham at the painting's center, as a teacher or a friend. The mere mortal at right and the other two strangers at left form a half circle, hanging on every word, but also a pyramid with the young speaker at its apex, elevating him to the rank of a god. He has not yet revealed himself, but he is not just bathed in light. His glow also illuminates others in a darkened world. The angels still shield their wings from Abraham's field of vision, and the one in the foreground has the earthy colors of this world. The tree behind them, with its thick bole and twisted branches, could stand for earthly vegetation or the tree of life.
The illumination does not extend to Abraham's wife, Sarah. The Bible has her laughing at the thought of a son at her age—or even scorning it. Here she looks on in suspicion, lurking in an open door, just as she will in a print of the same scene ten years later, in 1856. There God has the beard and robe of an elder statesman, with Abraham almost his mirror image. The background has grown deeper and lusher, and Ishmael scampers over a fence. His playfulness reinforces the moment's solemnity, and his crossing the fence to a wider and wilder world anticipates his banishment.
Abraham is caught between families, between obligations, and between worlds. So he is again with his arms outstretched to banish Ishmael and the boy's mother, Hagar. Is he lying to himself about his responsibility toward others? One hand points to the wilderness, the other to the doorway and a dog—at once firm in his resolution and desperate to hold onto them all. Rembrandt never does represent him at his most outspoken, negotiating with God over the fate of Sodom and Gomorrah. When Abraham asks if God will kill even a handful of the righteous in order to punish the wicked, is he speaking on behalf of the saints, the sinners, or his own dual nature?
Maybe only Rembrandt could have found a way to ask. His etchings animate the shadows with cross-hatching and freer touches of drypoint, while thick squiggles of ink leave much of the paper untouched and a story's conclusion unstated. The curator, Joanna Sheers Seidenstein, suggests that he understood the burden of a divine encounter from Calvinism, but he has a way of speaking the unspeakable in art. The show does not borrow The Sacrifice of Isaac from 1635, a century after a shocker by Andrea del Sarto, when Rembrandt was not yet thirty, but the remaining drawings and prints stick to its theme. Even when Abraham fondly strokes a son's chin, one has to remember where he will later raise his knife.
In Rembrandt's early painting of the sacrifice (now in the Hermitage), the angel obliges Abraham to drop his knife—but it hangs suspended in midair, its point aiming straight at Isaac's throat and its blade falling toward the boy's crotch. Does it matter that God will provide or that God's covenant requires circumcision? In a drawing from the 1650s, Abraham still bends over Isaac, laid out on a table as if for surgery, even as the angel bears down. In a print from 1655, Rembrandt clings to the knife even as the angel's face comes close to kissing his dark, blank eyes. One can barely discern the ram that the angel has brought to the sacrifice, and the angel still covers the boy's eyes. God has spoken, but will human nature have the horrifying last word?
Read more, now in a feature-length article on this site.