The roof garden of the Met is set for a feast, but do not expect to dig right in. Oh, drinks and light snacks are still for sale, for those long summer evenings with views of the park. Banquet tables are there as well, with enviable place settings. Still, everything has the same ghostly white, from overturned goblets to mismatched knives. Coins lie strewn across one table, like mints or crackers—but with a sleeping child in place of dessert or a dip. Other tables bear restless, dead, or sleeping bodies.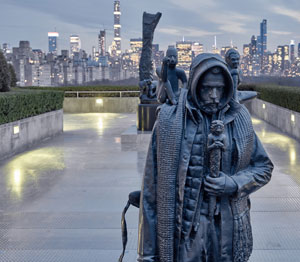 Besides, this is art, with clear directions not to touch, much less to dine. Pierre Huyghe changed little in 2015, beyond a few floor tiles, while Roxy Paine filled the roof with a forest after a storm some years before. This year's summer sculpture offers a treacherous compromise, as "The Theater of Disappearance," through October 29. Adrián Villar Rojas leaves room to wander, while undermining hopes of where to sit. His checkerboard flooring rises up to form two short benches, but also a barrier on the way to the bar. He sets standing sculpture in black, like guards distracted by stories of their own.
Already at age thirty-seven, Villar Rojas has a habit of raising obstacles. He set a concrete box on the High Line in 2015, as The Evolution of God, and he directed a dark restaging of MoMA PS1 in 2013, as The Innocence of Animals. He has animals and gods here, too, all of them from the Met's collections. He selected nearly a hundred objects, in conversation with the museum's curators, for a theater of repeat appearances. He then combined scans of the antiquities with scans of live people to produce his seventeen sculptures. He also took charge of the tiling and planting, with twisted vines that fit right in with the twisted bodies and twisted narratives.
The dialogue extends from the artist and curators to the visitor. It just happens to lack subtitles. Turning the corner from the entrance, you might mistake additional wall text for a list of source material, but nope: it is the bar menu. It would take a smarter critic than I to name much more. The museum goes too far in calling this a critique of collecting practices, but it is still a feast for historians.
That feast belies a genuine melancholy—for much of the art began in commemoration of the dead. An Arthurian hero from the face of a tomb has a second sword as a pillow and a young man by his side, lending him a maternal side and an uneasy new life. A man stares at an empty plate in search of his image or a meal. A kneeling soldier could be constructing a statue of lovers or separating them. A man with African figurines on his shoulders, a body in his backpack, and the bent head of a homeless person stands guard over the southern end of the terrace, where the checkerboard gives way to metallic flooring. Judging by the Met's photo of Villar Rojas, the figure's pose and hoodie match the artist's.
One can tire quickly of art's bad boys, like Maurizio Cattelan or Paul McCarthy. One can tire, too, of the drive to anoint the next superstar with a 3D printer and the cutes. A figure with hunting horns for a hat and wild animals for shoulder pads may sound cringe inducing at that. Credit Villar Rojas, though, with a creative dialogue. A woman sleeps beside an alert cat, while a sleeping boy holds a horse's head like a scene out of The Godfather. Meanwhile the visitor stares at the work of seven continents—and a living Argentine.
Read more, now in a feature-length article on this site.