Alan Vega was always a cult figure. He was the front man for Suicide as early as 1970, shrieking and wailing with only Martin Rev behind him on keyboards or a drum kit, but few had yet heard of what they called punk music. They issued their first album in 1977, when CBGB's was in its heyday, but he was more likely to perform at Max's Kansas City or in a gallery.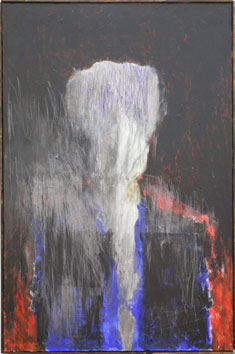 He studied art, joined museum protests, and exhibited with one of Soho's earliest and most influential dealers, O. K. Harris, but then he gave up his art for years. He found champions as powerful as Jeffrey Deitch, but at his death in 2016 he was not on the upscale dealer's roster. As his wife put it, "He was never really part of the 'art world.' "
Vega sought cult status not just in his music, but also in his art—and I have wrapped this in with a report on another who toyed with madness, Carol Rama, as longer review and my latest upload. Everything looks like a religious relic, but from a cult of one. A shadowy canvas could pass for a Byzantine icon, as seen just this summer at Invisible-Exports through July 29 (although, as you will see in a moment, you get a second chance to catch up with him). Scrap wood takes the shape of crosses. One assemblage incorporates Christmas lights. Titles speak of Prayer, Prophecy, Vision, and Screaming Jesus.
Vega had only recently returned to art, for portraits of what he called "old guys." Are they saints or sinners? The gallery has a strong focus on conceptual art, gender, and the body. And it is hard not to encounter a room of men from the waist up and not think of all three. Many reduce to little more than empty clothing. They could be torn and stained fabric in its incarnations from Robert Rauschenberg and Magdalena Abakanowicz to Iva Gueorguieva and others today.
One can divide the work into portraits and light sculpture, but they come together as variations on a single installation. Additional lights train directly on the paintings. Seven portraits hung side by side, touching, could mark a shrine. Two works on paper from 1965 have the more crowded look of outsider art, but the same air of mystery. It is hard to know how is worshipping, who is worshipped, and why. It is hard, too, to know who is among the living.
Vega has entered self-abnegation territory, but then he did sing for Suicide. Art knows that territory well from bad boys like Paul McCarthy and Mike Kelley, who loved the band. The lack of obvious humor takes Vega closer still to Andres Serrano and the latter's "Piss Christ," and the Jewish kid from Brooklyn did identify himself as Catholic. The installations, though, also suggest stage lighting. Does that make Vega's subject only and always himself? At least he has the kindness to keep the viewer out of the spotlight.
Deitch may be late to the party, but he has helped a Lower East Side gallery get some serious press. A few weeks later, he also supplies some useful context. What counts as context for the spare insistence of punk rock? If you are thinking "more of the same," Deitch Projects has still more lights and crosses, through September 30. A row on the mezzanine feels like a repeated pounding. So do images of a boxer.
The pounding might have crushed the faces in drawings from 2015 as well. It also translates into photographs and film. They show Vega as an art student and a rocker. They show him, too, reflecting on his critics, his cult, and his music. There as in life, he could claim a happy ending rather than a suicide. He died in his sleep at age seventy-eight.
Read more, now in a feature-length article on this site.