The Guggenheim Museum has every right to speak of visionaries. It built its collection on early Modernism, and it has a wing for Wassily Kandinsky alone.
Its building, too, is the work of a visionary. It might have descended on a city block from above, and it attracts crowds who would otherwise feel more at home with Hollywood special effects than with modern art or Manhattan.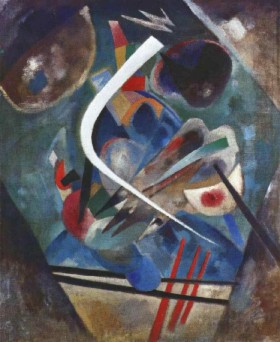 It even looks like a UFO. For a time, though, the artists and architect must share credit with others. With "Visionaries: Creating a Modern Guggenheim," through September 6, the museum pays tribute to its founders—and itself. Even if you know the collection by heart, you will encounter an unfamiliar vision.
The show opens with Kandinsky, but successive levels then pick up the small circle that helped Solomon R. Guggenheim build the collection and take it public—and it is the subject of a longer review in my latest upload. By introducing one collector at a time, it presents a short history of modern art as well. Despite itself, the museum also calls attention to its limits. The exhibition comes to an abrupt end with the opening of that six-story spiral on Fifth Avenue and the birth of Abstract Expressionist New York. Could their vision belong to a now distant past? Maybe not by accident, it also comes just a few months after the Guggenheim positions itself in today's global art market, with a gold toilet by Maurizio Cattelan.
The Guggenheim is no ordinary museum, quite apart from its round peg in the urban grid's square holes. The Whitney has moved, in no small part to display its growing collection—while MoMA has grown, slighting its collection on behalf of flash and real estate. The Guggenheim, in contrast, still depends on its quirky origins and architecture. The ramp puts temporary exhibitions at a disadvantage, while the permanent collection has to settle for two modest tower galleries. One displays the Justin K. Thannhauser collection of art from Camille Pissarro to early Picasso. The other limits itself to Wassily Kandinsky and inventing abstraction.
With "Visionaries," looking gets a little easier, although the focus has hardly changed. The Guggenheim has congratulated itself before, with exhibitions centering on its first director, Hilla Rebay, and its architect, Frank Lloyd Wright. Now they become just two points in a complicated time line. Just keeping track of the museum's precursors, locations, and changing names takes some doing. It is also worth the effort. The show becomes the story of half a dozen individuals and an expanding vision of modern art.
It starts, though, on familiar ground, with Kandinsky at his grandest and most lyrical. His abstraction holds the ramp off the rotunda and the adjacent High Gallery. For a moment, the museum looks like a pretty decent place to view art. That will change, but Kandinsky will reappear more than once as a touchstone of abstraction in the twentieth century. Wall text throughout mostly sticks to the work, too. This is about visionaries, but first and foremost their vision.
Does its abrupt end with Jackson Pollock leave the story just incomplete—or is a museum dedicated to the new no longer able to spread the news? One need not decide, for the show ends with a sparkling turning point. Pollock's 1947 Alchemy, on loan from the Peggy Guggenheim Collection in Venice, has the impasto of his Surrealist phase and the all-over impulse of his drip paintings. Newly cleaned, its colors gleam amid the thick black oil. For all the points in the show's time line, it has no floor for Solomon R. Guggenheim alone. As Pollock attests, he could defer to competing visions.
Read more, now in a feature-length article on this site.