The architect of a mile-high building sought to rein in skyscrapers. He found the loss of light and open space soul deadening. He hated congestion and unchecked growth—but he never, ever shied away from contradictions.
Frank Lloyd Wright contained multitudes. He designed more than a thousand buildings in the course of seventy years, roughly half of them built. He left hundreds of thousands of drawings and other records along the way. Five years after their acquisition, the Museum of Modern Art and Columbia University are still sorting them out. "Frank Lloyd Wright at 150: Unpacking the Archive,"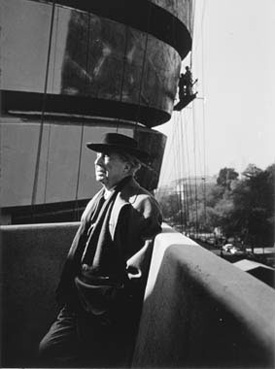 with a follow-up on Wright's housing projects just opened at Columbia this fall, will have you doing the same—and it is the subject of a longer review, in my latest upload. With some four hundred objects at MoMA alone, through October 1, it can feel congested and unchecked, but it dares anyone to tease out the multiplicity.
"Do I contradict myself? Very well, I contradict myself. I contain multitudes." Wright was no Walt Whitman, but he was distinctly American. It shows in his egotism and optimism, even in the face of the Great Depression. It shows in his salesmanship, which lay behind his drawings and press events.
There is a lot to unpack, and the lead curators, Barry Bergdoll and Jennifer Gray, are delighted to tick it off. Fifty-five thousand drawings in the archives? (Check.) Three hundred thousand sheets of correspondence, well over a hundred thousand photographs, nearly three thousand manuscripts, and any number of films and models? (Check, check, check, and check again.) One can spend a long time amid the generous selection and wall text, dip in and out, or give up and turn away.
The show already follows a Frank Lloyd Wright retrospective at the Guggenheim in 2009, plus "Frank Lloyd Wright and the City" at MoMA in 2014 (and my earlier reviews will fill out the story). If that, too, sounds like overkill, it has its advantages. It can avoid the Guggenheim's focus on itself, and it can point more firmly than last time to Wright as an architect rather than urban planner. Yet it can also add to the confusion. It brings separate scholarly curators to each of twelve sections, arranged by theme. If one does not already know Wright's achievement from past shows, one may not learn about it here.
Fortunately, the themes help pin down the contradictions. Were they even real? Maybe Wright just changed his mind, between his Skyscraper Regulation Project for Chicago in 1926 and Mile-High Illinois some thirty years later. Yet he proposed a high-rise for Manhattan back in 1927, next to St. Mark's Church in-the-Bowery, and that never got built either. Both towers had the same foundation at that, a "taproot" set deep into the ground as an anchor for cantilevered floors. To add to the seeming contradictions, the idea of a taproot borrows from botany.
The contradictions may never quite go away, but they are also nurturing. Wright was never the dictatorial capitalist out of Ayn Rand—not when he cared so much for people, design, and nature. "Unpacking the Archives" leaves a delight in textiles and table settings as well as buildings. It leaves the beauty of his drawings for their fine lines and soft orange, blue, and green. A large model for the Guggenheim, just as well crafted, will make you want to restore its cream color and to obliterate the toilet tank for tower galleries, added in 1992. It will, at least, until you return to Wright's building and try to find a decent place for art.
Read more, now in a feature-length article on this site.