Robert Rauschenberg did not traffic in stolen property. Yet few have taken more risks in the name of art.
Everything may seem, barely, above board. Rauschenberg bought the toilet paper of his black paintings over the counter, and he rescued the soiled bedding of a shocking combine painting from the trash. Yet no one else can bring art so close to criminal conduct. And no work comes as close to a defacement of private and public property as his Erased de Kooning Drawing of 1953.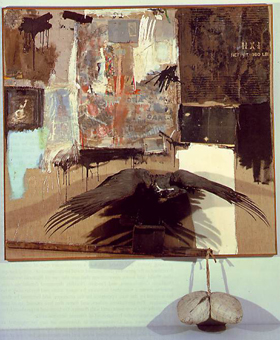 At least critics at the time thought so, but Willem de Kooning handed over a drawing knowing full well what would become of it. The older artist did not just go along with the game either. He got into it, selecting a composition with several figures that he knew would be difficult to erase. In Rauschenberg's recollections, the number of erasers and the time it took kept growing with each retelling. Jasper Johns got into the game, too, supplying a frame and a label as integral parts of the work. If Rauschenberg committed vandalism, he had partners in crime.
The Museum of Modern Art takes collaboration as its theme, for a mammoth retrospective—and it is the subject of a longer and fuller review in my latest upload. It places the artist "Among Friends," through September 17, including work with and by others along with the breadth of his career. It argues for his art as interdisciplinary, egalitarian, and open. It helps in understanding his frequent shifts in substance, style, media, and materials, as he kept up with friends and influenced them in turn. People like to say that good artists borrow, but great artists steal. MoMA sees Rauschenberg as not just borrowing, but repaying the loan with interest.
The line about stealing comes in several versions (sometimes with copy in place of borrow), and Pablo Picasso may or may not have coined it. That confusion only adds to its assault on the "originality of the avant-garde"—and who more than Rauschenberg led the assault? Robert Hughes long blamed Andy Warhol for ruining modern art, like the Huns descending on classical civilization, but Rauschenberg was the consummate vandal. He took the readymade from Dada, with all its refusal of art, and turned it into appropriation, with all its refusal of art apart from the world. It made him a founder of Pop Art and a leading influence on the turn away from painting with the "Pictures generation" after 1980. It allowed him to work, as he liked to say, in the gap between art and life.
For MoMA, it also makes him a natural collaborator. Right out front stand classics of Pop Art from the museum's collection, like Warhol's Marilyn and a soft telephone by Claes Oldenburg. Already Rauschenberg is among friends. The exhibition proper then opens in 1950 with ghostly blue photograms by him and his wife at the time, Susan Weil. They took turns posing and photographing the other. For one, she adjusted the light sources so that he appears twice in collaboration, as if holding his own hands.
Collaboration sounds ever so reasonable and cuddly. Maybe great artists do steal, and none more than Rauschenberg—and I was more cogent in reviews of the Rauschenberg retrospective twenty years ago and his combine paintings in 2006, so I hope that you will have time to read about them as well. Still, this show is overwhelming for good reason, because so is Rauschenberg. It may even overturn one version of him, along with its own theme. I had always written off the lightness of cardboard boxes from the 1960s and the seemingly endless late silkscreens to reliance on assistants, but maybe they represent a falling off in collaboration instead. Starting in 1962, he spent much of the year in Florida, to recover the "isolation needed for productivity." He began delegating more than collaborating. By his death in 2008, he could steal from no one but himself.
Read more, now in a feature-length article on this site.