Carol Rama liked to say that she painted to cure herself. Do not believe it for a second. Over seventy years of her art, she kept finding new ways to sustain and to relish the disease.
Sometimes the cure is worse than the disease, and her busy retrospective at the New Museum, through September 10, opens in an asylum. The only surprise is that she is not an inmate. A self-portrait at age twenty, in 1937, already takes a wry look at herself and her madness.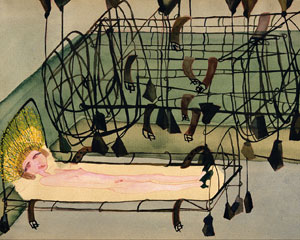 Its flat colors and yellow background recall German Expressionism, but she leans on one hand with a mix of girlish innocence and composure. The rest of the room, though, tosses both to the winds. Dozens of watercolors from 1936 to 1944 revel in the madness.
Men and, especially, women bare their flesh, in contortions that thrust their breasts and butts at the viewer. They seem to have no substance beyond their skin and no background beyond a wheelchair or hospital bed. One woman lies beneath an ominous rack of belts, like a massive instrument of torture, but the watercolor's title speaks of passion—or rather Appassionata, as in Beethoven. It could have existed in quite another room of the asylum, as storage for nasty means of restraint, or entirely in her mind. Other women draw snakes into or out of their bodies. They could be turning pleasure into sin or sin into pleasure.
Rama had every reason to question her sanity. She lost her father to bankruptcy and suicide and was visiting her mother all those years in the clinic in Turin. Somehow, though, she had found a home. In her watercolors it has shoes, for clothing or a fetish, and shovels, to clean up after the mess. "The entire world looks like this," she told herself. "That helps me a lot."
Her world continued to look like this until well into her eighties, when her output slowed ten years before her death in 2005. She followed the watercolors with more detailed, flat, and grisly etchings of much the same things, as "bodies without organs," and she returned to etchings near the end. By then she was also designing clothing and, yes, shoes. Earlier the snakes and restraints had become rubber belts slashed off of used tires, recalling the bicycle factory that her father had owned, protruding limply out of more abstract paintings—and now the tortured flesh had become tortured black oil. "I like to paint everything black," she added. "A wonderful joy."
The curators, Helga Christoffersen and Massimiliano Gioni, quote Rama often in wall text. It helps in pinning down the continuity and contradictions in her art. Between her self-taught style and her mad subjects, she can seem the ultimate in outsider art. She had, though, shifting encounters with the latest European art, only starting with German Expressionism. She associated with the Italian version of Art Concrete, which encouraged her move to abstraction, although she had little patience for plain geometry. Her heavily worked surfaces give her a place with Art Brut and Arte Povera as well.
Not even madness was entirely out of her control. She moves to murkier canvases in the 1940s, with seeds and rice mixed into paint. Eyes and stars merge with blackness. She approaches geometry again in the 1970s, with those rubber strips, before a final return to representation. Materials include textiles, raw canvas, syringes, and human teeth. The naughty bits alone mark her as a feminist. They bring her closer to Lara Favaretto and Marisa Merz, also in Italy, as well as to Joyce Pensato or Betty Tompkins in New York today.
When she speaks of bodies without organs or of a cure, the museum takes her at her word. It calls her retrospective "Antibodies," for a pun on both. Still, I wonder. "I love fetishes," she also said, and she finds new versions of painting as fetish with each decade. She may allude to that as well with a series of Bricolages, a word that Claude Lévi-Strauss in anthropology used to describe "the savage mind." It means making do with the materials at hand, rather than following the rules. Frustrating and wearying as it can be, it also describes her art.
Read more, now in a feature-length article on this site.