"My task which I am trying to achieve is, by the power of the written word to make you hear, to make you feel—it is, before all, to make you see." Does that make Joseph Conrad a painter, and what of a near contemporary from across the Atlantic? With "Henry James and American Painting," through September 10, the Morgan Library would like you, too, to see.
Conrad wrote those words in 1897, on the verge of his greatest works. From the preface to "The Nigger of the Narcissus," they attest all by themselves to the urgency of the written word.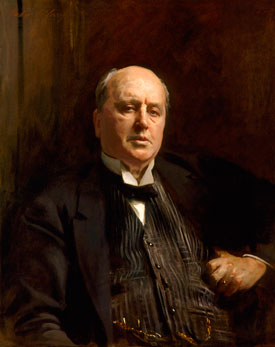 Could they apply to a somewhat older novelist, then also in England and soon to enter his major period as well? It may sound unlikely, if Henry James makes you think of a disdain for appearances. He hated Impressionism and took only the faintest interest in what came after. He seems more determined to make you confused, to make you mired in his syntax, and before all to make you think.
Yet James did write The Portrait of a Lady, and he sure knew portraits. He sat for John Singer Sargent, and he knew Sargent's New England, London, and Italy by heart. He knew another American expatriate in James McNeill Whistler as well. He took art lessons when young, compared writing well to artistry, created an aspiring sculptor in Roderick Hudson, and lived and worked among artists. He paid a studio visit to William Morris Hunt, advised a sculptor on how to find a market, and shared impressions of Europe with John La Farge. He wrote "The Aspern Papers" while paying frequent visits to Frank Duveneck—a portrait painter whom James called "the unsuspected genius."
Duveneck married a student, Elizabeth Boott, and James encouraged her, too. According to the curators, Colm Tóibín and Declan Kiely, she also served as a model for the vulnerable heroine of Washington Square, the illegitimate daughter of a treacherous husband in The Portrait of a Lady, and the increasingly suspicious heroine of The Golden Bowl. She may or may not have recognized herself—or felt halfway flattered. The exhibition has portraits by all these artists, with several of James. It has scenes of Florence and Venice by Sargent, London fog by Whistler, photographs, and documents. To underscore its theme, Tóibín is a novelist and critic.
It is less than convincing all the same, as either the key to the novels or as art. James moved among wealth, and much of the show reflects the conservatism of American art entering the twentieth century. Many of the artists on view are half-remembered and conventional—including the sole American Impressionist, Lilla Cabot Perry. Boott's gilded funeral effigy, by her husband, is downright embarrassing. The sole hint of Modernism comes in a photo, with James inspecting a painting by Arthur B. Davies. Try to convince yourself that he was learning rather than judging.
Nor should it should come as a revelation that writers mingle with artists. Michelangelo as a poet, anyone, or the expansive circles of Gertrude Stein, Florine Stettheimer, Robert Rauschenberg, and Andy Warhol? It deserves more attention, too, that those relationships change with the times—from shared patronage by the powerful to the shared alienation of the avant-garde. James lies somewhere in between, and it shows in the anxiety and betrayals of his novels. But then Conrad had his greatest success in the murk of characters, morals, and language as well. Think of that verbose and badly punctuated run-on sentence.
Still, the parallels between literature and art extend beyond the slow emergence of the American modern. Whistler could almost have been speaking of James when he titled a portrait Arrangement in Black and Brown. The sudden glimpses of light amid theater and darkness in Sargent suggest the later fiction as well. His portrait of James in 1913, three years before the writer's death, is the most penetrating in the show. Then again, a sentence or two further into his preface, Conrad could have been describing them all. He may seek appearances, but for "encouragement, consolation, fear, charm—all you demand—and, perhaps, also that glimpse of truth for which you have forgotten to ask."
Read more, now in a feature-length article on this site.