Omar Fast makes sure his videos are hard to follow. In fact, he makes it hard to know that video is even there.
Even if you have memorized the address and visited many times before, you may hesitate to enter, at James Cohan through October 29. Fast has restored a busy corner of the Lower East Side to its previous state,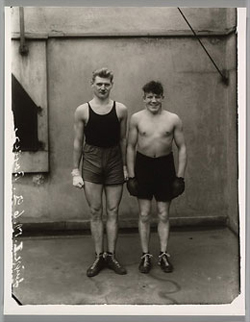 as a mysterious business hidden behind a small convenience store. His gallery might have fallen off the earth or never come to be. Its sign is gone, apart from Chinese characters, and so is much in the way of space for a show.
Consider it a marriage of convenience between the fringes of Chinatown and of art. The resemblance to its past life is uncanny, earning him the anger of the Chinese American community for its "poverty porn"—right down to a glass counter for a token selection of cheap electronics and two ATMs, neither of which works. A monitor of the sort for bus schedules runs to no obvious purpose, not even to keep the shop's owner halfway awake. The artist has redoubled the trickery, with the illusion of the illusion of an independent business apart from whatever lies behind a black curtain. He also redoubles the difficulty of his video, which plays continuously on that monitor. If you ever felt lost owing to walking into new media that were already running, here you have to dare yourself to walk in at all.
Fast's videos are always hard to follow. In fact, they are so hard to follow that I can seriously question whether they are political art. That is quite a trick, given such past subjects as a suicide bombing, the interrogation of political refugees, and the generational consequences of the Nazi occupation. He combines deep focus and full color with shallow spaces and plenty of black. He also brings arbitrary cuts in time to the conventions of documentary realism—and documentary realism to the quandaries of the mind. A voice-over may explain the action without quite describing it, and the characters on screen may seem to have lost their voice.
Here the video dates from several years back, when the space might have held that very convenience store. It seems to be about a funeral, perhaps of someone you know. The voice-over describes not so much a particular funeral as the business, in lurid detail, but children flit in and out to make the loss theirs. Is it a matter of politics, real estate, business as usual, or life and death? The installation dances around much the same question. Is Fast dealing with gentrification, the fate of galleries, both, or nothing at all?
He is so infuriating because he is always holding out the urgency of politics and human lives—and never quite getting around to either one. He shares the puzzles of another politically inclined video artist, Artur Zmijewski, but in closer to a dream state. And here he gets dreamier still but just as morbid in a new video, in the back room. Something lies behind the curtain after all, only not the old neighborhood. August sounds like summer winding down and with it a greater optimism, but here it names a photographer. Where August Sander saw the Germany he knew as a catalogue of human archetypes, Fast makes Sanders one himself.
He shows the photographer at work in a wider landscape than the finished photographs ever show. The sitters look a little stiff but young and alive, and so does Sanders. And Fast frames them with Sanders as an older man, hardly able to raise his head from the ground. Further cuts add still another angle, something to do after all with Nazis and what they thought of his work. Politics and art could not get more urgent than that, not least since Sanders lost his son to the Nazis, but once again the video stops frustratingly short of their encounter. When the show ends, though, you may still feel haunted by what the gallery has swept away.
Read more, now in a feature-length article on this site.