Joel Meyerowitz might seem an unlikely champion of color. He emerged from commercial photography only to set it aside, like Diane Arbus. He had discovered alternatives in the blacks and whites of Robert Frank and Eugène Atget.
He made his name in the 1960s with street photography, much like Arbus or Garry Winogrand—with people not for what they wear, but for the strangeness of who they are and what they do. A man in black and a woman in white kiss because opposites attract, because it is New Year's Eve,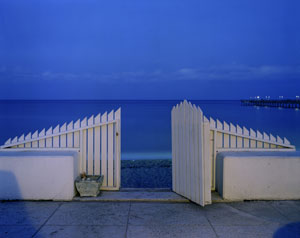 and because the marquee above does say Kiss Me, Stupid. Another couple points at cross-purposes, as if in search of ways to deny the model whale behind them in, of course, shades of gray. Meyerowitz obtained exclusive access to Ground Zero after September 11, when mere appearances must have seemed beside the point when not ground to dust.
He prefers twilight to the steamy afternoons of William Eggleston, who did so much to make color respectable. For Meyerowitz, not even a rosebush looks plain red. It stands between a faded porch and withered ground, much as a 2013 publication (actually photos from the 1970s reprinted as recently as 2017) translates a French expression for dusk as "Between the Dog and the Wolf." When he turns to still-life, he ditches the designer colors close to abstraction of Jan Groover. For him, the photographic object is an old watering can on a faded ledge against a pale yellow wall. He calls the resulting series "Morandi, Cézanne, and Me"—and who could have more exacting and understated colors than Giorgio Morandi?
Yet he was a champion of color, even before his first book, in 1979. A solo show celebrates the transition with an alcove for black and white and a small room for color. And then it assembles the two recent series out front, at Howard Greenberg through October 21. They suggest that color for Meyerowitz has less to do with surfaces than with objects and light. (He called that very first book, at age forty, Cape Light and another Tuscany: Inside the Light.) It also has to do with what Sigmund Freud called the uncanny.
Meyerowitz turned onto color in a big way, even before he turned to landscape and still-life. Try to decide which looks funnier or more unnerving in that small room—women in matching prints or in clashing one-color dresses. Maybe it freed him from the search for the creepiest personality or the creepiest incident. Maybe it freed him, too, from the search for the perfect moment. With twilight, it places him between moments, much as he called past series Bay/Sky and At the Water's Edge. With Morandi and Paul Cézanne, it also places him between an earlier realism and Modernism.
Outdoors, his compositions come almost ready-made. While people are few, two girls pose on a wall without undue encouragement. Someone with an eye for real-estate values erected that rosebush or built a gate opening onto the ocean at Fort Lauderdale. Meyerowitz has only to place them in the center of the frame. Saint Louis placed its Gateway Arch nearly up against its cathedral. Provincetown ensured that a building looks suspiciously like the Bates Motel in Psycho, and nature ensured that the sun and moon could share a darkening sky.
They also share an unnatural light. Contrasting neon colors cover the sides of a house, and actual neon lights reflect in car windows at a food shack as rippling curves. Colors grow more nuanced in still-life, including a glorious array of scratches on the ledge. Both Morandi and Cézanne used color to construct space, and so does he. They also left the construction forever incomplete, much as Meyerowitz photographs more enigmatic objects in dark corners. A sign on a fence at sunset resembles the glaring white of an LED, because people are finally catching onto the enigma.
Read more, now in a feature-length article on this site.