When art turns to refugees, should it see more than lost lives and lost souls? Can it?
With Julio Bittencourt, it sees the dispossessed and homeless, even on the edge of a western city. With Paul Anthony Smith, it sees fences, with no going forward and no going back. With Richard Mosse, it sees camps in the harsh infrared gaze of their overseers. With "Perpetual Revolution" recently at the International Center of Photography, it sees a crisis. John Akomfrah has filmed a crisis as well, in the tide of races and peoples fleeing for Europe.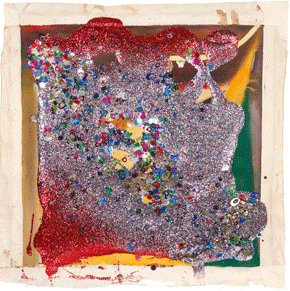 What happens, then, when an institution sees not just the loss of a homeland, but the birth of a cultural resource? The Caribbean Cultural Center African Diaspora Institute (or CCCADI) dedicates itself to education and activism as well as the arts. And it sees those programs as the collective discovery of personal and creative identities. With "Liminal Spaces," through October 26, it portrays that process as ongoing and uncertain, but hardly impossible. With space for just sixteen artists, all of Guyanese heritage, it finds itself between continents, on the way from Africa to South America and to a thriving community in New York City. It does not, though, think of that as such a bad place to be.
The institute's very name sounds as if it has lost punctuation on its way across continents. Its location, too, places it on the border between Harlem and East Harlem. Its artists are not concerned for a post-black or post-African identity, since few of them have set aside the past and not all of them are African American. The curator, Grace Aneiza Ali, favors young artists, but for a diaspora spanning more than fifty years—since Guyana's independence from the British in 1966. The exhibition title is ambiguous as well, with a sense of both thresholds and limits. Its vocabulary also shows it at ease with Postmodernism as well as tradition.
The artists have a vocabulary independent of both. A video by Mason Richards is neither a documentary nor new media. It follows a child's arrival in a new land, moving between thoughts of his grandmother and the poetry of everyday life. Karran Sahadeo photographs a teenager immersed in her laptop, but in a dark interior out of a gothic romance. Red curtains blow inward without disturbing the stillness, crossed by shadows that align with those on the girl's shirt. For all these artists, a liminal space includes both external forces and the mind.
Some speak directly of their roots and anxieties. Stanley Greaves adopts Surrealism for his Bread Man. Christie Neptune photographs a woman crocheting. "I had a hard time adapting to this culture," the text says, but which culture? Keisha Scarville all but smothers herself in her mother's clothes. Dominique Hunter allows a woman's silhouette in wild flowers a graceful dance.
Some photograph literal borders, like a coastline for Michael Lam or the horizon for Khadija Benn, whose girl lies in a field out of Andrew Wyeth and Christina's World. More often, though, they feel most at home in painting. Kwesi Abbensetts means his abstractions as This Old House, but one would never know it apart from the wood slats between canvases. Damali Abrams slips in a mermaid and Suchitra Mattai a woven fish, Donald Locke uses arrows for ascending and descending mountains, Victor Davson converts glitter into flags, and Carl Hazlewood compares his large canvas to a song, with perhaps the pins that cross it as notes. Arlington Weithers places acrylic and beads beneath a horizontal and empty wall—and he could be speaking for others when he calls it Crossing.
Read more, now in a feature-length article on this site.