Before you get too far into French drawing at the Morgan Library, you might stop to compare two striking examples on facing walls. If you think of the Baroque as high drama or ornate, they seem to set you alone with their subjects. If you think of the classical age as academic, the Royal Academy was still years away.
Pencil outlines by Jacques Bellange barely contain his brown ink washes and the paper's creamy whites, as they alternate freely down the page. Nor can they quite contain the blinded giant leaning on his cane—or the goddess on his shoulder, leaning down to offer him a smile, a hand, and a guide.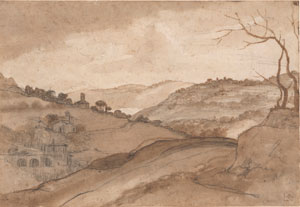 They might extend to you as well. Just a turn of the head away, Daniel Dumonstier uses four colors of chalk for the portrait of a gentleman. They bring clarity to the arc of an eyelid, the glint of an eye, the pursed lips, the bridge of his nose, and the points of his mustache and goatee. They also bring a high flourish to every curl of his hair and fold of his ruff collar.
"Poussin, Claude, and French Drawing in the Classical Age" is an overflowing study in contrasts, through October 15. You can see the erudition of artists and audiences familiar with Ovid's Metamorphoses, poetry, and myth—and sharp eyes concerned for nature and appearances. You can see competing bases for art in Versailles, the royal palace at Fontainebleau, and the ducal court of Lorraine, at Nancy. You can see the growing importance of drawing as central to an artist's working methods and as finished product—for patronage, for sale, for mounting in albums, or for production in series. Dumonstier had a reputation for his four-chalk technique and for entertaining his sitters while he worked. You can see why he was in demand.
Think of them not as conflicting impulses or as tensions within the art. Think of them rather as the nexus of beliefs and practices that define the high style of the 1600s. Throw in the devotion of French Catholics—and try not to worry that the Inquisition had Sébastien Bourdon, a Protestant, on the run. This was the Grand Siècle, or great century, for both royal power and the Baroque. It drew on Italy, from Caravaggio to Gian Lorenzo Bernini, even before the king recalled Simon Vouet to France in 1627. Overwhelmed with commissions and intrigues at the French court, Nicolas Poussin hightailed it back to Rome in 1642 as fast as he could.
The Frick went into greater depth fifteen years ago, with loans from the École des Beaux-Arts in Paris. (Pardon me if I leave a fuller and more helpful look to my review then.) The Morgan has turned to the same century with "Rembrandt's World" in 2012—and to later French drawing with "Fragonard and the French Tradition" in 2006, "Rococo to Revolution" in 2008, and Théodore Rousseau and the Barbizon school in 2014. Here the curators, Jennifer Tonkovich and Marco Simone Bolzoni, trace the influence of the court, the birth of a print culture, and a budding market in collectors (like Johann Wolfgang von Goethe more than a century later). They end with the consolidation of artistic practice in the Academy and the royal collection under Charles Le Brun. Fewer than fifty drawings, almost all from the Morgan's collection, make a compact introduction.
As the show's title suggests, they give the most space to Nicolas Poussin and Claude Gellée, better known as Claude Lorrain. Nowhere else is the mix of classicism, piety, observation, and creativity more apparent. With Poussin's Death of Hippolytes from 1645, real horses run wild past a crag, a mythic chariot overturns, and a tidy pyramid collapses with them. In his study soon after for The Holy Family on the Steps, black chalk adds stabs of insight, and shadows are a torrent of ink and wash. Anne and the infant Saint John have a greater activity than in the painting, and such props as a towel and plant life have not yet given way to its eerie perspective. Claude lends Apollo with a herd of goats both a greater naturalism and a higher polish, while the crossing diagonals of hills, clouds, houses, and trees take on both a greater depth and a supernatural energy.
Claude may have worked from the view out his studio window in Rome or on the spot, only to enhance clouds and reflected sunlight later on. An artist known only as Lagneau may have sketched a peasant's raised hair and crooked mouth, much as August Sander sought social and psychological archetypes in the twentieth century—or he may have posed a workshop assistant and added his imagination. Charles Mellin definitely played with actual and trompe l'oeil architecture in designing a fresco over an arch. Building on a The Visitation by Pontormo from 1528, Laurent de la Hyre allows Mary and Elizabeth a very human warmth, but also a Renaissance bulk and a perfect balance. Earlier, Vouet treats Louis XIII informally, but also apart from details of clothing that might make him a mere mortal. Gentlemen, too, might be giants.
Read more, now in a feature-length article on this site.