Was Minimalism massive or spare? Was it an art of big boxes and steel plates—or bare lines and empty rooms?
How about none of the above? For Kazuko Miyamoto, it could could hold the wall or spin out across a gallery. Dating from a time of industrial materials, it could insist on the handmade, the irregular, the repetitive, or the imagination. Work from the late 1960s through 1980, at Zürcher through October 22, helps recover a woman in abstraction for today.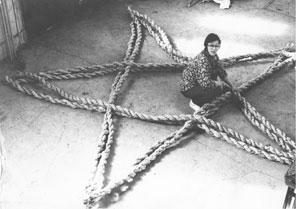 Born in Tokyo, Miyamoto came to New York in 1964 to be a painter. She studied at the Art Students League, already past its prime as a nurturer of Abstract Expressionism. Like others then, she retained broad brushwork, while stripping down to simpler geometries. She also began to engage the wall. Maroon on black from 1969 resembles brickwork, like paintings by Sean Scully, but as Progression of Rectangles. From that point on, she treats the art object as a solid, but also as a source of optical activity and motion.
Massive and spare went together in those days, much as work by Carl Andre kept to the floor under its own weight. When Frank Stella turned the wood of his stretchers sideways, so that it comes further out from the wall, he insisted that painting can bear weight, too. When Richard Serra flung lead, he had begun to spill out into space as well, but one had sure better get out of his way. When Richard Tuttle bisected a gallery in thread or Sol LeWitt drew a dizzying array of lines, they were making wall paintings. Rosalind E. Krauss included all these artists in a legendary show of "Line as Language," at Princeton University in 1974, along with Mel Bochner, Robert Morris, and Dorothea Rockburne. Miyamoto should have one seeing the line as much as the wall or the language.
She had already discovered a concern for line in LeWitt. They had studios in the same building in 1968, along with Adrian Piper, and met outside during a fire alarm. (She still lives on the Lower East Side at age seventy-five, and she exhibited nearby at Invisible-Exports in 2014.) As a studio assistant, she worked on his wall paintings and open cubes. She began to incorporate parallel marks into her drawings, including grids of dabbed ink and plus signs, too. They may allude to traditional Japanese calligraphy and the game of Go as well.
Galleries and museums have been looking for parallels to Minimalism in other nations, such as Grupo Frente in Brazil and Mono-ha in Japan. They have also been seeing these movements as sites of personal expression and gendered identity. (Hélio Oiticica, a gay from Brazil, spent the 1970s in New York.) Gender enters Miyamoto's art with a break from the wall. She described dense arrays of string nailed to the wall and floor, from 1974 and 1978, as female and male, and do not go thinking of the "purity" of white as female or blackness as male. The show includes recreations of both.
They build on her drawings, but they take their full shape only as one walks past them. They also nearly dissolve into light. Paper ladders hang instead from above. They recall Joan Miró or a rope ladder to the moon. The gallery accompanies the show with a Japanese poet's tribute to Miyamoto, as if she lived only in memory. If her imagery is any indication, she has already moved on.
Read more, now in a feature-length article on this site.