Starting in 1988, an avowed atheist devoted her art to a West African religion in Communist Cuba. No wonder her subjects struggle to emerge from the darkness. With "Nkame," through November 5, El Museo del Barrio surveys the all too brief career of Belkis Ayón—and I have placed this with another recent report on Caribbean artists crossing cultures as a longer review and my latest upload.
Ayón began with clashing colors, but they sat awkwardly, she felt, with her equally clashing compositions. By 1991, color appears only as a black woman's golden yellow shirt on a still blacker throne. Her white scepter and blank white eyes make the darkness all the harder to penetrate.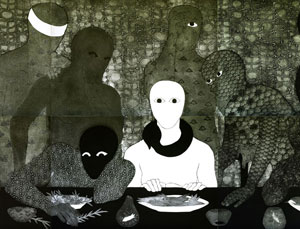 In no time, even that touch of wealth and pride is gone. Yet it leaves a dizzying variety of stark silhouettes and shades of grey. In Ayón's most majestic work, the central figure has become a mere outline in white, set amid sinister and luminous surroundings.
Ayón calls the work La Cena (The Supper), but this is no happy family gathering. Its title comes from The Last Supper in Italian, but it can manage at most eight apostles or betrayals. Where Leonardo da Vinci captured a moment of suspense and revelation, Ayón sees only languor and lurking. The central figure faces front, with no features at all beyond haunting and haunted eyes. Others lean darkly over each other or the table, leaving three plates of fish untouched and a fourth reduced to bare bones. One figure turns away in profile, but it seems just as frightening and as mysterious that the others will remain.
What looks like a mural is really a print—or rather adjoining prints, any one of which tells only part of the story. Ayón claimed, modestly or jokingly, to have stuck to them because she was so bad at drawing. I would not underestimate her talents, but even as prints go she chose a process closer to assemblage than to the fine line of engraving or the brushwork of lithography. Known as collagraphy, it layers paper and ink on sandpaper and other materials before running them through a press. It allows her to control her many shades and textures. It also allows her to extend a composition from the floor to a wall, like the passage between this world and the next.
Often as not, the central figure is a woman, with a clear resemblance to the artist. The museum tries to reassure visitors that they need not worry unduly about the details of Abakuá, her guiding myth brought from Africa with the slave trade. She did not believe in it either. The show has a dizzying amount of wall text for the curious all the same. Do not even try to find an explanation for the show's title, a word of welcome half-buried in the verbiage. Still, Abakuá for her mostly boils down poignantly to that woman and her fate.
She discovers a fish, which turns out to incarnate a royal ancestor and a manifestation of god. As others learn about it, they demand her death, but she is not going down without attaining a foot in both worlds. She sits alongside that god and beneath a cross. She takes on the fish's scales as her skin, her cloak, her jester's motley, or her armor. They could pass, too, for leaves as a sign of growth and renewal. Her whiteness makes her at once a reversal of darkness and the embodiment of death.
As with the fish and the passage to divinity, Ayón often looks for parallels in Christianity—but with a black woman in place of a white male savior. She has a goat at her feet, for an African trickster or a sacrificial lamb. Does she also disguise a commentary on Cuba? The curator, Cristina Vives, notes the need for Latin American art to hide meanings under the Castro regime. She notes, too, the nation's insecurity as the Communist bloc crumbled. For Ayón, even catching a plane for the Venice Biennale took some doing.
Her suicide in 1999, at age thirty-two, may have caught friends by surprise, but death was never far away. If Afro-Cuban evokes joyful rhythms, here joy and motion are hard to find. One series describes rites of initiation to, after all, a secret society that she could never join and a spiritualism that she could never quite embrace. The very last prints, just one to a sheet, isolate her in turbulent circles without hope of a resurrection. They place her at the very center of what an earlier show called "Caribbean: Crossroads of the World." Still, anyone who crosses here may never leave.
Read more, now in a feature-length article on this site.