Let me pause this week to catch up, with some reviews that somehow never found space. It means looking back, but give it a try. I shall post a little extra, meaning Tuesday and Thursday, as well.
Sometimes, they say, jazz had to set aside image in order to make music. Sometimes it had just those late nights in small spaces when no one was mugging for the camera. From the jagged intensity of bebop to the reserve of cool, this was serious business.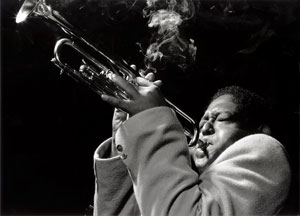 Then again, that, too, was an image, and no one made it as indelibly as Herman Leonard. "The Rhythm of Old New York" shows the photographer at work starting in the late 1940s. It also shows musicians in the act and, the show's catchy title notwithstanding, never more modern.
Maybe jazz never lost its glamour, but many said it had, proudly. As big bands gave way to small groups, the case goes, jazz could set aside star power for tight ensembles and a direct connection with listeners. Musicians could disappear into their music—or a cloud of cigarette smoke. They could be overweight and on drugs, like Charlie Parker, or downright hostile to the uninitiated, like Miles Davis. They could break the color barrier in their acts. Stars like Duke Ellington and Benny Goodman could take time out from the Apollo Theater and Carnegie Hall to sit in the audience, because it was the place to be.
Leonard makes the case himself, recently at Robert Mann through October 14. He asks not how they party, but how they perform. Sara Vaughn is seated in rehearsal, and Parker and Davis are just the start of a front line coming right at you. Buddy Rich is here as not a bandleader but a drummer in close-up, pouring it on. When they pause, like Dizzy Gillespie with a smile or Gerry Mulligan for a kiss, they have earned it. Tony Bennett hugs his mike like a loved one, and Chet Baker collapses into his trumpet, because he can do no more.
Not that many were as dapper as Bennett, Nat King Cole, or a young Frank Sinatra, and Leonard plays that up as well. The marquee at Bop City, with Artie Shaw above Ella Fitzgerald, is pretty sexy, too. The photos thrive on artificial lighting, the kind that turns night into day and day into night. They linger on the highlights of loosened shirt sleeves or that ubiquitous cigarette smoke. Even so, they subordinate the performer to the performance. Davis becomes mere hands on the valves of a trumpet, and a cigarette butt for Lester Young rests on an empty Coke bottle beside sheet music and his hat.
They marked the birth of an American art form, much like Abstract Expressionist New York in much the same years, and visual artists found a home in performance, too. Think of Robert Rauschenberg and dance, Jasper Johns and John Cage, Nam June Paik and Charlotte Moorman on cello, Pop Art and the jukebox, or formalism and free jazz. Maybe a new generation had new standards for what is hot and cool. Leonard's photo of Fats Navarro for the Blue Note reissue series helped introduce a rock fan like me to jazz. Then again, maybe jazz and rock have had much the same standards all along. Goodman was the king of swing, but Eric Clapton was god.
One can dismiss Leonard as mere packaging, just when photography was finding an America beyond cool—like Diane Arbus and Gary Winogrand in the city, Danny Lyon in a Texas prison, Magnum photography at an antiwar protest, or Robert Frank on the road. No matter. The glamour holds up, and so does the seriousness. Goodman sits behind Ellington to hear Ella Fitzgerald at the Downbeat Club, just as he integrated his big band because he cared less about approval than about making justice and making music. He sat in one of the bars on 52nd Street, like W. H. Auden on September 1, 1939, but unlike the poet he was anything but "uncertain and afraid." He was listening hard and looking good.
Read more, now in a feature-length article on this site.