Let me pause this week to catch up, with some reviews that somehow never found space. It means looking back, but give it a try. I shall post a little extra, meaning Tuesday and Thursday, as well.
Almost anything might be lurking in a photograph by Willa Nasatir, maybe even someone you know. She would insist otherwise, but should you trust her?
Much of the appeal of her images lies in the elusiveness of what they represent and the evidence of deception. There is plenty of evidence, all from the last year alone. Nasatir works large, on the scale of a person, and in layers of objects and spaces.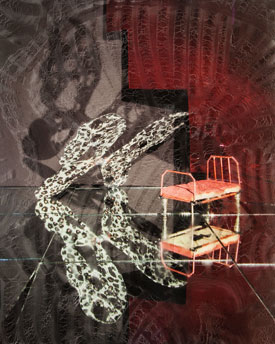 Walking into her exhibition recently at the Whitney was like entering a room in which not even harsh museum lighting can fully penetrate the darkness.
You might have stumbled on it earlier this fall coming off the large floor for Hélio Oiticica, the Brazilian artist, through October 1. They appear as different as night and day. Oiticica loved the plainness of simple geometry and wide open spaces for visitors, or "participants." From his early constructions in Rio to photographs on a Manhattan rooftop, he wanted art to feel alive and free. Nasatir makes her work impenetrable, although she, too, likes the sensation of floating. Ghostly whites hover uncertainly over electric colors and sheer black.
They present at first a cascade of color, although nearly half the small show is black and white. Several color photos hang side by side on the wall facing the entrance, like a single unstable space. They hold more photographs parallel to the picture place, along with larger and equally cryptic objects. The work in black and white, most often smaller, looks denser to the point of abstraction. Both could seem primarily about the choice of chromogenic or gelatin silver prints for their own sake, all mounted on wood. Both, too, could almost pass for photograms.
Nasatir's cascading shapes have much in common with work today between photography and abstract painting, like that of Eileen Quinlan, right down to signs of craquelure. They are, though, always about something. She starts with assemblages of found objects, and then the manipulation continues with photography and rephotography. A cart in the foreground of one image could be stacked objects or stacked images. A speckled rag running down that same photo repeats itself for sure. While she tends to avoid digital manipulation, the electric colors belong to a digital age, and it takes a moment to realize that they are almost all red, yellow, and blue.
What they are not are people, although they have every sign of life. A cart like that one could stand beside a patient's bed in a hospital, and the rag, to judge by the photography's title, has become a butterfly. Vertical shapes could stand for people or empty clothing, and shadows run beneath them. Most images look like interiors, and they do take place in her studio. Titles, though, speak of a bird, a hitchhiker, a sunbather, and Coney Island. Did I mention that installations for Oiticica include live birds and sand?
The ambiguity of inhabited and empty, static and busy, inside and out, helps explain why the spaces seem both deep and claustrophobic. They could be sites for forbidden experiments, like scenes for Everett Kane, and two are The Red Room and The Green Room. The interest in pre-digital equipment from an artist barely old enough to remember it resembles Kane's as well. A photo in black and white might represent a control tower, and another appears to perch a bus on top of the bus depot. Mostly, though, they seem safe enough to enter. You never know whom you might encounter within.
Read more, now in a feature-length article on this site.