What counts as gestural abstraction? It may depend on what counts as a gesture.
Rannva Kunoy and Jacqueline Humphries say that their paintings have nary a one, but they leave no end of traces. To complicate matters, the traces show the artists at their most mechanical.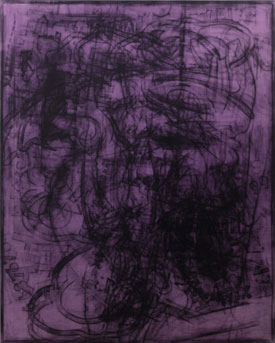 They show them, too, at their most deeply immersed in language, and it is not a language intrinsic to art. Yet that very denial of formalism stands as a gesture—and I have wrapped this in with other recent reports on abstract painting as a longer review and my latest upload.
For those coming off the elevator, at Nathalie Karg through December 3, Kunoy's first painting may seem simple and rule driven. Black verticals reduce it almost to a shade of gray, and then the irregularities appear, along with background colors. Once one sees their purple and green, their shimmer will not go away. Nor, though, will the overlay of acrylic, pigment, and dispersion. One can spend a long time trying to make sense of the letters, numbers, and seemingly random squiggles—or trying to decide where one color ends and the other begins. The paintings are tall but invite one in, in part because their format aligns them with the viewer.
Art has been in this territory before, of uniformity giving way to subtlety or confusion, from Ad Reinhardt and Sol LeWitt to the hybrids of abstraction and representation common enough today. Here, though, the languages of art keep asserting themselves. The acrid colors evoke photographic reproduction, and their staining brings out the texture of canvas. The occasional overlay of white in place of black could serve as photographic negatives of the rest of the show. Yet they also look like ghosts. Abstraction here is haunted by itself.
Jacqueline Humphries evokes the glory days of gestural abstraction in her scale alone, at Greene Naftali through December 16. The gestures, though, are hers. She says that she has translated past work into ASCII, which may have one hoping for the meaning of her art in alphanumeric sequences that only a browser will recognize. It could even democratize some high-end art. Instead, she uses the familiar array of symbols, from backslashes to plus signs, for gradations of light and dark. She says that she has cut out the bits of black oil with a laser.
She has kept herself out of the process—or out of everything but images, marks, and the very thought of painting as a process. She has a history of silvery surfaces, as in the 2014 Whitney Biennial, much like Kunoy's and just as haunting. Here the ghosts include the raised texture of laser-cut black and what it could possibly mean. (I could swear that signs like shields are cat faces.) They also include underlying brushstrokes laid down as if with a roller, for yet another layering of free and mechanical reproduction. They dare one to decide just where Humphries has entered the picture and whether she has left.
Minimalism and late Modernism did their best to undermine the "originality of the avant-garde," and a subsequent generation pounced on the "death of painting." The brushstroke as a sign helped toward its revival, as with David Reed, but critics still complain about "zombie formalism," consigning it once again to the dead. The debate comes down to an opposition between mark and gesture. Could both be present at once? Kunoy and Humphries sure seem to think so. They see expressive possibilities in languages of art.
Read more, now in a feature-length article on this site.