Kellyann Burns is capable of warm, clashing colors, but also cagey enough to keep them in reserve. On entering at McKenzie through November 12, one might see instead a blast from a more austere past, in the person of Brice Marden.
While Marden has his bright side, too, with swirls upon swirls against white, his earlier work seemed to distrust or even to deny pleasure. And Burns adopts his division of the field into two colors, one more muted and yet more sour than the next.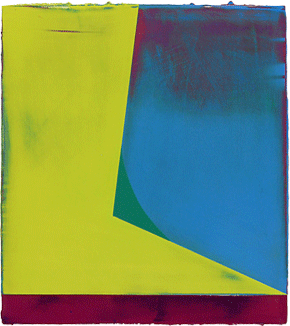 They recall his blues and yellows that refuse to stand for primaries—and his gray that infects them all. One panel hints at brightening skies, but mostly buried in black.
Still, they break with Marden's combination of depth and uniformity. Within the same painting, one color is matte and the other shines with reflected light. Both fields are layered, and both lie flat. A line in oil pierces a pale field with the texture of pencil or charcoal. Other paintings run freer, like stains or drips heading the wrong way. Still others allow black to show through, giving colors a touch of smoke.
In truth, Marden was never opposed to pleasure. It just had to be a purely abstract pleasure, without reference to expression or representation. He asks how deeply the eye can penetrate a single field. His later work may identify curves with brushwork, like David Reed, but without Reed's illusion of a wide brush. And Burns is not opposed to Minimalism's material pleasures. The rough edges of her thin panels make one aware of them and the layers of paint that they disclose.
Burns works on Alu-Dibond, or common plastic with aluminum on both sides. The aluminum makes possible the matte or shine—that and the hard work of layering and sanding. A square of wood on the back lifts each panel off the wall and allows it to hang with any orientation. Just as with technique, she is exploring the possibilities. The most colorful and intricate panels are also the smallest, just a little too large to hold in one hand. Their detail and the metal coating bring them that much closer to digital.
Painting so much about craft and versatility can lack that one memorable image. Think how, even after so many years, I recall overcoming my distaste for early Marden. Now in his eighties, Robert Moskowitz still has that image, all the more so because it has to compete with the rectangle. He takes his black and white to the point of abstraction, at Kerry Schuss through December 3, but without losing that one big thing. The white silhouette of a skyscraper rises at an angle as in amateur photography—or as if soaring into the surrounding darkness. It looks all the more striking if one recognizes the Flatiron or Empire State Building.
Moskowitz's repertoire, from windmills to divers, links him to the New Image painting of the 1970s, but it shares the simplicity of the thing itself with Jasper Johns. It began in 1961 with the image or shadow of a window shade, and he is still casting a shadow before interrupting it with light. His latest include two black diagonals that slide against one another just enough that a sliver of white appears between them—and jagged white that boasts of its asymmetry. Either can serve as figure or ground, but then the whole idea of figure and ground has gone out the window. It has gone out, that is, before pulling down the blind. Now just think what might result if Burns retains her breadth while sharpening the flatness.
Read more, now in a feature-length article on this site.