So where do we stand? The future of the Drawing Center looks reasonably secure after five years in Soho. (It did once get the boot from plans for Ground Zero.) So does Open Sessions, its program of artists in residence.
What, though, of the practice of drawing? "Where Do We Stand?" looks at thirty-six artists, and their work runs to almost anything but pen or pencil on paper. Has one stumbled onto just another summer group show?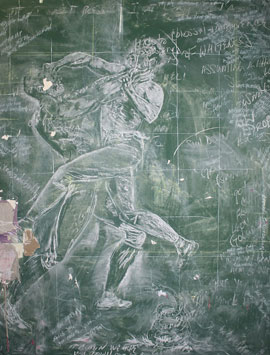 Do not be too sure. It starts innocently enough, with a touch of interactivity? Srinivas Mangipudi leaves out a mix of text, images, and white space, like William Powhida without the critique of the art world. Those with enough interest in her private thoughts can touch a screen to "be aware." Once inside, though, beware. The show includes drawings and collage, but also photographs, video, and sculpture.
One might have seen it coming. The Drawing Center's last show had gorgeous scientific illustrations—but not by its sole contemporary artist. Mark Dion instead recreated a laboratory. Other recent shows have had architecture by Mateo López and stereo speakers by Gabriel de la Mora. Since moving to the Bowery, the International Center of Photography has had as much interest in surveillance cameras and news footage as artistry and photojournalism. And now things get really busy.
The curators, Lisa Sigal and Nova Benway, describe Open Sessions as a "hybrid exhibition/residency program," which goes without saying. Where would artists in residence be without a concluding exhibition, as with the Studio Museum in Harlem? The surprise comes with the sprawl. With so many artists, most just through September 17 (and sorry for not letting you know then) but some still up in the basement "lab," residency could border on a homeless shelter. And the question of home appears often. Cut paper by Olalekan Jeyifous depicts Crown Heights in Brooklyn, urban signs from Ezra Wube evoke housing projects, photos by Rodrigo Valenzuela stand between architectural models and ruins, and photos by Nsenga Knight resemble tape marks or graffiti. More photos by Hong-An Truong concern family memories of Vietnam, while Mustafa Faruki conjures up Governors Island as a refugee center for immigrants from heaven.
Mixed media continue with animation by James Mercer and Lei Lei. Drawing has its fashionable bow to the graphic novel as well, with bullfights as thought balloons for Jennifer May Reiland. Abstraction is rare apart from cutouts by Sara Chang Yan. And then things boil over into sculpture, with measuring tape as markers of identity for Sreshta Rit Premnath, railings by Gabriela Salazar, pagan ruins by Farael Kelman, and a tap dance of audio plugs by Thessia Machado. With a show so unthemed, it makes little sense to pick winners, but jc lenochan dares anyone to do so in what looks like a chalkboard. The wrestling figures surrounded by text fragments are dual or dueling intellectuals.
Drawing still has a home, if not in the Center's three galleries. Jackie Ferrara covered a corridor with the colorful geometry of an empty city, also through September 17. And Gary Simmons pursues text art and erasure beside the stairs, through January 14. Ghost Reels has a descending roster of African American silent film actors, like closing credits. They look like ghosts, and one must take his word that they ever existed. If you wonder where you stand, they may also have you reeling.
Read more, now in a feature-length article on this site.