Did you know that Shakespeare left his wife the second-best bed? Maybe he did not love her all that much, which would explain his long absence in London, or maybe that was their bed, the one they shared on his retirement—from the theater and for the night. He had made his bed as an artist, and he could now lie in it.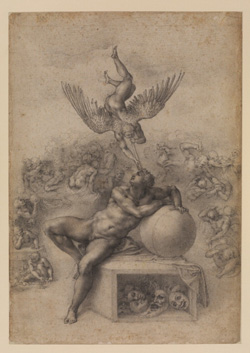 Or maybe he just hated "best" lists, and he wanted to put them in their place. I know I do, and I leave it to others to pick winners. If I can help you see, then after that, truly, you know best. Once again, then, allow me the quirkiest of listicles—and you can see a full recap in a longer review and my latest upload. As you will see, 2017 had many highlights, and I link whenever I can to past reviews. As you will see, too, if you ask the right question, then it can be hard in a year of sometimes bitter controversy to tell the worst from the best.
For starters, as another year comes to an end, is there a best way to look back? When it comes to art's history, the year had few blockbusters. It had Robert Rauschenberg among friends, not to mention among more art forms than you can count. As he suggests, though, some of the best looks back have come in other media than painting. I offer some highlights in paintings, photography, design, and drawing in my longer review. And best of all are Michelangelo drawings.
What about the best show I almost overlooked? It happens every year. I try to see too much, and often I turn away without a word. I have to respect silence, because I want to write only when I have something to say beyond the listicles. My longer review catches up with several shows that I mentioned only in passing or not at all. Care to guess which to deem the best, from among such artists as Mel Kendrick, Ad Reinhardt, Lee Krasner, Arshile Gorky, and Elizabeth Murray?
Then there is the best artist I could no longer overlook. Diversity has become an obvious priority, and so has recovering often overlooked artists from the recent past. Call it the one-two punch of political correctness and the art market, but also call it a relief. Nor is it solely a matter of political art. Indeed, the real breakthrough may well be the diversity of artists who have entered galleries and museums for no other reason than themselves. Anyone used to decrying the paucity of women in museums would have found them everywhere in 2017—including Belkis Ayón between Africa, Cuba, and her own private myths.
Last, what was the best or overheated controversy? The year did not lack for loud voices at gallery and museum gates. Surely the most justified and rewarding were African Americans confronting the still louder sounds of gunfire. Arthur Jafa, Lonnie Holley, Sanford Biggers, and Nina Chanel Abney all reflect the urgency of Black Lives Matter. Kara Walker called her own show "The most Astounding and Important Painting" of the season—and she could well be right. She also spoke out to defend another woman whose art cries out against racism and a mother's loss.
That woman, of course, is Dana Schutz—and a reminder that art does not just address live issues. It also generates controversy and then wades right in. Does a white woman like Schutz have what it takes to represent the death of Emmett Till, the subject of a painting in the best Whitney Biennial in years? Can the Guggenheim fairly represent art in China since 1989 without live animals fighting and dying? Can the Met stand up to protests against Balthus, with a morally and sexually ambiguous depiction of adolescent awakening, and should anyone take seriously a truly vapid Salvator Mundi attributed to Leonardo da Vinci? Things can get awfully silly, but take it from me that art can still be about more than money, or take it from the best of 2017.
Read more, now in a feature-length article on this site.