The Met Breuer introduces Raghubir Singh as "Modernism on the Ganges," through January 2, but the photographer knew better. Modernism had long preceded him to India, and its advent seemed fated to remain incomplete.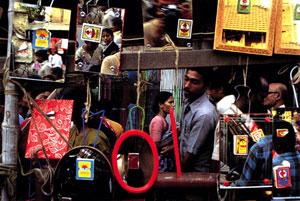 The mammoth steel frame of a cantilever bridge looks down on a wedding party by the river in much the same spirit as Shiva the destroyer looks down on an electric fan. Lenin looks down on the diminutive Communist party leader in much the same spirit as Kali, the malevolent mother goddess, looks down on a barber shop where a man, naked from the waist up, flexes his muscles. An equestrian monument looks down on storefronts and filmgoers in much the same spirit as the Bollywood posters behind it and the wires that hold the statue up—or threaten to tear it down. Yet the spirit is not altogether willing, and the flesh is not altogether weak.
Singh thrives on juxtapositions, because they put modernity in perspective. They describe how art enters into life and past into present. Here he can rely for his presences on statues and the poster at a campaign rally. They also pack in that much more of a caste- and class-ridden culture. He traveled the length of the Ganges starting in the late 1960s to see it all. And he liked the panorama so much that he took to the Great Trunk Road in the 1990s for more.
He likes juxtapositions, too, so that no one has the last word. The colonial era weighs down on the present, but Singh views its institutions through green mosquito netting. Modernity promises to lift the weight of the past, but commuters have to settle for a run-down excuse for a bus, while peacocks carry on in the foreground much as they have for a long time. Past and present struggle for primacy within lives as well. The wedding party follows the rules for the occasion, but they serve as an excuse for rejoicing. The barber and his customer kneel face to face as if poised for a fight.
Singh keeps returning to rituals, and it is hard to know where the rules end and the display begins. Young men sparkling in the spray from a fountain are taking part in a rite of immersion. A diver enjoys the flood waters that have all but submerged ancient architecture. Singh sticks to color, too, for its own display. He avoids broad fields of clashing colors as in William Eggleston and Joel Meyerowitz, in favor of pulse and variety. He admired glowing prints by Anish Kapoor as well as old manuscripts, but he prefers motion and spectacle.
Modernism did indeed precede him, and he found a model in Henri Cartier-Bresson. He also found a friend in William Gedney, and he may have seen a parallel between India's uncertain modernity and Gedney's rural America. Not coincidentally, both Gedney and Cartier-Bresson also worked in India (and Howard Greenberg in midtown brings together Gedney's and Singh's work there for the occasion, through December 9), while Singh also lived in Paris, London, and New York. He did a stint in the north of England as well—to teach, but also to photograph, of course, Indian immigrants. Still, he has little talent for the French photographer's decisive moment or the American's vivid portraits in a crowd. These are revelers first and second, slum dwellers or workers a distant third, and individuals hardly at all.
Singh saw India not as individuals, but as jostling for space. It can leave him as conventional and picturesque as most photojournalism, and he worked for the New York Times Magazine, Life, and National Geographic. (The last supplied him with Kodachrome and those nice bright colors.) The curator, Mia Fineman, integrates work by others, also including Helen Levitt and Eugène Atget. She even excerpts films by another friend, Satyajit Ray. Singh looks clumsy by comparison, but in search of a nation's indecisive moment.
He was still trying to see it all at his death in 1999, at age fifty-six—often from the windows of a car. The Ambassador looks like a real clunker, but India and Hindustan motors were proud of it. The device also recalls "America by Car" for Lee Friedlander, whom he admired as well. He associated windows and mirrors with Modernism, for both the formal constraints and the fragmentation. By the end, his gestures and juxtapositions were loosening. At least one photograph could pass for photocollage, but its colors, frames, and images belong to an actual mirror store—and they mirror a bustling but often stagnant nation.
Read more, now in a feature-length article on this site.