If your idea of Christmas is the evidence of things unseen, welcome to the mind of Max Ernst. It took art from Dada to Surrealism and then some.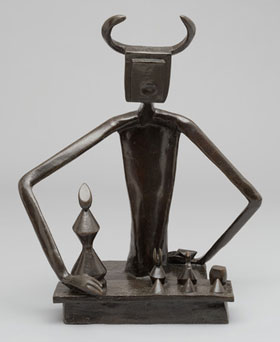 For a time, Ernst styled himself Dadamax, and no wonder. He threw himself heart and soul into Cologne Dada, which he had helped found. He shared its disdain for audiences that expect a "proper" form of art—the kind, no doubt, bearing the more dignified signature of someone named Ernst. He also made the transition with others to Surrealism, rushing to join them in Paris in 1922. Besides, he did everything to the max. MoMA catches up with him in medium after medium and subject after subject, through January 1.
Ernst believed in movements and in the collision of art and words. One can see his disdain and disciplined excess in prints from 1920. Let There Be Fashion, the title proclaims. Down with Art. The series looks like a textbook in design or in higher mathematics—right down to unclothed mannequins, geometric constructions, and more or less meaningful formulas. Artist books also allowed him to work with everyone from Paul Eluard, the poet, to Antonin Artaud, the writer and provocateur.
Friends also allowed him multiple identities, as in To the Rendezvous of Friends Become Flowers, Snakes, and Toads. He produced that series alone, but with the help of countless quotations. It also points to his fascination with natural history as another field for transformations. A collage positions a boat with steam pouring out, beneath what might be a fish or a beetle—and who is to say which gave birth to which? The show ends with 65 Maximiliana, ou l'Exercice Illégal de l'Astronomie. Again he is competing with science, and again he is taking things to the max.
"Beyond Painting" in fact has paintings as its high points. They bring still more to the science project, with images after microbes. They also introduce Ernst's most disruptive media. Frottage, grattage, and decalcomania amount to rubbings, scrapings, and transfer from glass plates. Like collage, they replace the artist's hand with a process of addition and erasure. More composed paintings do not come off half as well, for all their pursuit of the luminous.
The Modern attempts a career survey solely from its holdings. It accords with a greater attention to its collection, as in exhibitions of "Dadaglobe" and women in abstraction. It could serve as a plea for its expansion now in progress—billed as a way of giving space at last to its core. Yet it risks an aborted retrospective. It has little background beyond the dates of his move to Paris, his escape to New York in 1941, and a return to France in 1953, more than twenty years before his death. Late work and books threaten to bury the more revolutionary painting, sculpture, and collage.
One could well define Ernst by what he is not. Born in 1891, he served in World War I but returned consumed not by the horrors of war, but by his art. Guilliame Apollinaire, who later coined the term Surrealism, had thrilled him as early as 1913, the year of Ernst's entry into the Berlin Salon. His postwar collage lacks the scraps of combat in Kurt Schwitters, the brutal face of the machine in Francis Picabia, or the poetry in Man Ray. His Surrealism lacks the existential puns in René Magritte or the dreams in Salvador Dalí. He turns his pointed sense of humor on high culture and the psyche.
He comes closest to terror in 1924 with Deux Enfants Menacés par un Rossignol (or "two children menaced by a nightingale"). Its heavy frame holds a gate onto a landscape of the mind, including a girl fleeing with a razor and much the same blade affixed to the front of a house. Yet its boy holding a small child has a toe on the roof like an accomplished dancer—and the outstretched arm of a football player barreling ahead. Terror and agency blend together again in the finest of Ernst's later sculpture, The King Playing with the Queen. The king is caught up in the game, perhaps a reference to a greater chess player in Marcel Duchamp. Who knows who is playing or playing with whom?
Read more, now in a feature-length article on this site.