Laura Owens takes the museum's proverbial white cube literally, as a room within her midcareer retrospective at the Whitney, and paintings wrap around its top. In one painting high on each exterior wall, a single hand sweeps along like a clock that has lost track of everything but the precious seconds. The rest might be counting off the hours more figuratively, even if having fifteen rather than twelve in each row disrupts space and time once again.
Another partition cuts off all but the top of a few more rows on a back wall. Sneak into the narrow corridor behind it for the rest, should you dare arouse a museum guard's vigilance. Two more paintings face one another as mirror reflections, give or take the artist's imperfections.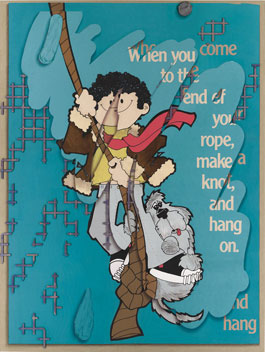 Still another installation treats its paintings as bedroom furnishings, with a painted couple in bed hung just around the corner. Given three beds, five dressers, and two bedroom mirrors to multiply them, this would be quite a slumber party. Jorge Pardo, her boyfriend at the time, contributed the stiff and seemingly mass-produced furniture. And then there are the paintings within rooms within rooms within paintings, like the one with an easel and a perspective onto other galleries at back. Either this imaginary museum welcomes copyists, or Owens has enlarged her studio. She does so implicitly every step of the way.
Owens pays tribute to a great museum. Still cherish the moveable walls and flexible galleries of the old Whitney on Madison Avenue, now the Met Breuer? The 2015 architecture by Renzo Piano extends them to larger spaces downtown. Now the Whitney brings them to much of two floors, through February 4. And yet Owens began her paintings more than twenty years ago, and she and the walls are still on the move. Do not believe her one minute when she says that she is at the end of her rope.
Despite all appearances, her retrospective is anything but site specific. The curators, Scott Rothkopf with Jessica Man, base its rooms on her past shows—and that painting of a museum, first exhibited in London, contains her distorted memory of the Art Institute of Chicago. She plays freely, too, with boundaries in taking Minimalism's grids into wood slats that may extend beyond a painting's edge. She plays just as much with memory, with a style out of children's books and subjects out of the lives of her children. Her son contributed a homespun fairy tale to four freestanding panels. As a likely museum first, she brought her little girl to the press preview.
The childishness extends to mythic lovers and warriors, nature scenes, and slapdash abstraction. And the overt sophistication extends to the illusion of thick brushstrokes on classified ads—or knots of paints that stand for birds and bees. Owens has lived in LA since attending Cal Arts, where John Baldessari made conceptual art the order of the day. She reasserts painting, in accord with its revival nowadays (like her appearance at MoMA in "The Forever Now"), but conceptualism is still on her tail. It follows her even to the naïve and the painterly, like the circle of light from a table lamp. Who knows whose eyes or stars peek through as blurred circles of light in a dark forest?
Owens does not often do darkness or depth, and the space aliens in her son's fractured fairy tale may have leveled cities. She is more at home with her grandfather's sailboat or the birds and the bees. As the text of one painting puts it, "When you come to the end of your rope, make a knot, and hang on." A cartoon boy and baboon take her advice, happily ignoring the irony. So much LA whimsy can wear quickly, but one can still enjoy the exuberance—not to mention a painting's way of referring to itself and others. Go ahead and feel impassive, but the museum walls have given way.
Read more, now in a feature-length article on this site.