Auguste Rodin is the great artist that you pass on the way somewhere else. His sculpture punctuates the south corridor at the Met, on the way to the Impressionists to one side and Modernism straight ahead.
You pass Rodin on the way to Modernism just in looking at that. He opened the way to an art not of appearances, but of unstable masses and unsettling feelings. Yet he loved Gothic cathedrals, moral fables, and half-remembered myths, with the sheer theater that modern critics as late as the 1960s took as a term of abuse. Now "Rodin at the Met," a modest show on the centennial of his death, brings still more of his work out of storage, but as an invitation to linger, extended through February 4.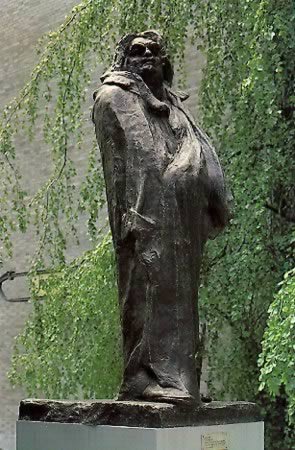 Born in 1840 (the same year as Claude Monet), Rodin shocked contemporaries with the naturalism of his early work, like the carefully modeled male nude of The Age of Bronze, and his head of Honoré de Balzac takes care for the novelist's wrinkled brow and pug nose. Yet a local man sat for the portrait, and the nude awakens onto an age. Rodin wrote that "character is the intense truth of any natural spectacle, beautiful or ugly." Yet his characters are types, and for him beauty or ugliness is fate. His nudes come in two varieties, young and old—and an old courtesan is just one more emblem of sin and despair in a monumental sculpture, The Gates of Hell. Titles identify others as merely The Tempest and, most famously, The Thinker.
Much of his modernity consists in the collision between frankness and inarticulate depths. The thinker is very much the artist, but his art is about not reason, but fragmentation and feeling. His monument to Balzac nearly hides the man in the physical presence of his cloak. His carvings put their subject on an equal footing with their heavily beaten pedestal. The Hand of God, holding inchoate human life, identifies godhood with artistry. Yet it also comports with an art that enlarged hands and feet as an expression of inner pain or physical entrapment.
Rodin evolves from classicism and polished portraiture to the calm of a bather. In between lie the twisted, deformed, and sexually charged major works. Yet he looked to Michelangelo as a model for the agonies of Adam and Eve after the fall, and anyway he defies simple dating. Often he modeled a work in the 1870s, in terra cotta or marble, only to add multiple bronze casts as much as thirty years later. That multiplicity, too, is part of his modernity. Rosalind E. Krauss took it for a critique of the "originality of the avant-garde."
Here, too, Rodin is always a work in progress—including progress toward the museum known as the Met. It commissioned casts from him in 1910 and gave him its first gallery for a living artist. He donated more works to the Met soon after. He had already influenced modern art in New York. Edward Steichen photographed Balzac at all hours of the night and convinced Alfred Stieglitz to give Rodin drawings a show. And then there is his corridor in the Met today.
In truth that corridor is always an embarrassment. It showcases academic art before a first glimpse of something else. For the occasion, the paintings hew more closely to Rodin's influences and friends. They include the allegories of Pierre Puvis de Chavannes and Gustave Moreau—whom Rodin did not like but who marks a similar transition from Symbolism to Modernism. A nude by Pierre-Auguste Renoir accompanies one by Rodin, and the Seine for Claude Monet accompanies his bather. Together, they make the older art more relevant, but also leave Rodin more firmly in transition from the past.
No one is more of an embarrassment than Jules Bastien-Lepage. Yet sure enough his Joan of Arc has the raised hands of Rodin's agonized creations, and her flatness points to Rodin's frontality, even in sculpture fully in the round. Her patriotism also parallels Rodin's colossal Burghers of Calais (the tale of men who gave their lives to lift an English siege) in the European sculpture court a floor below—a bit of tawdry postmodern architecture on the way from the south wing to the Met's center. It, too, is on the way somewhere else. Still, try to stay long enough to watch passing detail spill out into myth. As Rodin boasted, "Even the most insignificant head is the dwelling-place of life."
Read more, now in a feature-length article on this site.