"My mother was right. Suffer and die." It sounds like a final plea from the heart, from a woman long past the need for compromise.
Not that Louise Bourgeois was ever one to compromise, and MoMA has every right to call more than two hundred and fifty prints "An Unfolding Portrait," through January 28. Still, for all her thoughts of dying, she had lasted well into her nineties by the time of My Inner Life, a print just two years before her death in 2010. Like her sculpture, it combines frankness with just enough detachment to make anyone squirm—and I have wrapped this into earlier reports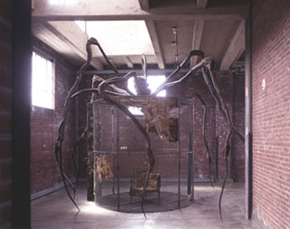 on two other American sculptors, David Smith and Alexander Calder, as a longer review and my latest upload.
Ma mère avait raison, it runs in French, just outside the show's entrance. Souffrir et mourir. And Bourgeois shows a standing nude with a big belly, swept up in lighter curves—never entirely comfortable in her own body, but also never once willing to prettify it or to disown it. She is smiling way too much to play victim, not to mention too busy observing her surroundings and making art. By the show's end, she has become a female Saint Sebastian with a big butt. The arrows that pierce the first Christian martyr are the least of her problems, and anyway they come from her.
Who knew that she had her mother in mind with her spiders and Femme Maison ("house woman")—and not her fears? Yet she insisted that spiders take care in weaving, and her mother kept a tidy home. Then again, the spider is as scary as ever, and the mother who told her to suffer and die sounds pretty scary, too. A homebody can be homey or cut off from the world, and art for Bourgeois can an act of self-assertion or a nightmare. Better still, it can be both, just as the spider's legs can morph into the tendrils of her hair. As she says in another print, "You can get twisted and tangled in your emotions."
Enjoy the tangle. A show of prints sounds like a small matter, and I shall not attempt to recap larger matters from a 2008 Guggenheim retrospective (so do give my earlier review a look as well). Yet it has plenty to keep one guessing, including two dozen sculptures. Bourgeois even gave her etchings the look of freehand drawing—and then supplemented their slim curves and splotches with brush and pencil. The sculptures, in turn, run to studies for other work. An exception, a chair barely visible through encircling doors as one of her many Cells, is suitably comforting or confining.
Bourgeois may not compromise, but the curators, Deborah Wye with Sewon Kang, do seek a compromise—between chronology and an arrangement by subject matter. It is not easy, given an artist who could not get enough repetition and variation. The room titles, such as "abstracted emotions" and "forces of nature," can be more cryptic than the prints, but then her thoughts and feelings always flow together. Those spider legs may spiral inward as a tightening of the chest or outward as a release. A bell jar can suggest natural history, but she may herself be the subject of an unwanted experiment. The Sky's the Limit, runs another title, but it is a difficult climb (or Montée Difficile).
The prints date mostly to the 1940s, before she turned once and for all from painting to sculpture, and to her last twenty years. They look back to her childhood in France and ahead to life in New York, not far from today's Chelsea galleries. Their obsessive repetition also connects to both Surrealism and Post-Minimalism. A small figure bulges every which way like a prehistoric fertility goddess or the female body for Kiki Smith. Segmented sculpture can rear up like a horse for Raymond Duchamp-Villon—or weigh down like dreams for Eva Hesse. Prints on parallel staff lines may evoke forgotten melodies or formalism.
Artist books also allow her to tell stories, with a command of both French and English. Her words have the simplicity of fairy tales and the complexity of a family history. She is always waiting for the man who got away—or the man who finally had the nerve to slam the door on her mother. The show concludes in the museum's atrium with larger prints and a large spider, its legs tightly encircling a steel cage. Does Bourgeois partly cover the cage with tapestry? She is still finding her way home.
Read more, now in a feature-length article on this site.