Sometimes even the divine has to struggle with the creation. The Met names a mammoth survey of Michelangelo drawings after his fame within his lifetime, as (only a little quaintly and preposterously) Il Divino. Yet "Michelangelo: Divine Draftsman and Designer" shows an artist who could never rest, through February 12, not even on the seventh day. In his writings, he valued ease but also difficulty—and grace but also terror. Who can say at any moment which will win out?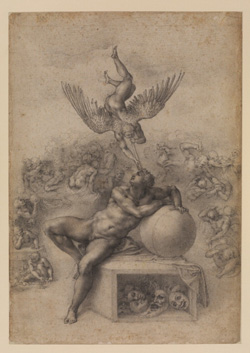 The Met takes him from a precocious twelve-year-old, or so it hopes, through the young man determined to outdo the very best of the Renaissance. It finds him struggling on sheet after sheet with projects that he could not bring to completion. It sees him struggling, too, as an older man to earn the affection of others. It ends with drawings as models in the hands of other artists, to extend his legacy to their work. It throws in a few paintings and sculptures, mostly by others, as well. With studies for such monuments of art history as the Sistine Chapel, it allows one to be present at the creation—and this is a huge story, so I invite you to read a longer review in my latest upload.
On his own in Florence, a city of art just as today, Michelangelo went back to the very origins of the Renaissance. He copied a monumental figure by Giotto, with cross-hatching in small strokes of the pen to create mass, light, and shadow. He copied the Expulsion from Paradise, by Masaccio, with red chalk that accentuates by its very smudges the pain in Adam's or Eve's face. He could not resist firming up their legs and butt muscles as well. A possible but by no means certain first sculpture in marble, a young archer, adapts an early Renaissance bronze while stripping it of decoration and refinement.
His early success in sculpture brought him to Rome, where he grew so close to the pope that Julius assigned him to design his tomb. Julius also overcame Michelangelo's hesitancy to take on painting the Sistine ceiling, while allowing the artist a far more ambitious scheme that either had anticipated. Later Michelangelo played a role in the design of Rome's greatest churches and public squares. He lived to influence not just the High Renaissance, through a close follower in Sebastiano del Piombo, but the late Renaissance as well. He offered a cartoon, or full-scale drawing for transfer, to Jacopo da Pontormo, and the twisted and tormented bodies of his Last Judgment could well stand as Mannerism's greatest achievement. He died at a time of changing morals, to the point that another follower, Daniele da Volterra, took charge of covering up the painting's nudity.
His breadth appears, too, in his media. The Met's description of him as "draftsman and designer" plays on the Italian designo, which means more than just drawing. One might think of drawing as a matter of line, but Michelangelo thought of himself as a sculptor, and he created a corresponding sensibility on paper. The early cross-hatching loosens up, and firm outlines vanish entirely—and he brought the same sensibility to painting and architecture, both public and private. He also found a language for his art and his longings in poetry, which often shares a sheet with his drawing. Not even Leonardo da Vinci was such a Renaissance man.
Michelangelo's breadth challenges a museum to keep up. The Met responds with more than two hundred objects, including more than one hundred thirty drawings by him alone. It also places a replica of the Sistine ceiling in a light box overhead, somewhat later than it and related drawings would fall chronologically. At a quarter scale, it is more than impressive enough, and it further drives home the artist's unity of site and art. The full-scale reproductions of individual panels this past summer, each on its own stand at the PATH station Oculus, had to leave one wondering if they could ever come together as a narrative, a program, or a work of art. Here they gain in power from the painted ribs that separate them and that ripple across the whole.
He fills a sheet only to turn it sideways, upside-down, or on its reverse to make room for more. He blocks out a figure with separate studies of anatomy, clothing, and architectural setting. He also makes it impossible to know which came first. Does that make his process fundamentally additive, or does he have it all in his head to start? Either way, his unity packs a surprise, and so do his drawings. You may need to come with a little of the story that the Met leaves out, or you may delight in leaping over the gaps.
Read more, now in a feature-length article on this site.