When Hassan Sharif died in 2016 at age sixty-five, he left behind all sorts of things, and his Chelsea gallery gives pride of place to some of the least prepossessing. Notes or sketches place numbers in small grids, like KenKen puzzles or magic squares that refuse to add up.
Nor do the sheets themselves, with the grids falling where they will among still more cryptic marks, crossings out, and blank spaces. Sharif might have been laying bare the logic behind his finished work or throwing logic to the winds. Then again, he could be staking out a place between the two or just killing time. The show does bear the title "Semi-Systems," at Alexander Gray through February 10.
Even at his most logical, Sharif might be killing time. He traced the outlines of a small white cube on the floor, shifted it to mark an adjacent square, and shifted it again a few more times until he had completed a larger square, without a number in sight.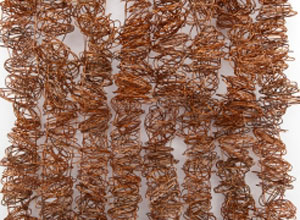 The gallery displays both photographs of successive steps and a video of their making—leaving others to decide whether to call the work photography, conceptual art, process, or performance. He earned a reputation for them all, counting cars on a road in Dubai or accumulating household items like tools and toys. Other works come closer to Minimalism, like the squares or like beams of partly burnished steel and finished wood. Sol LeWitt, Carl Andre, and Donald Judd might have joined right in.
A confession that he sought variety and richness in simple rules sounds right out LeWitt as well, but for Sharif the rules seem secondary to their execution. Not that he was in search of a greater beauty. His piled plastic, aluminum, fabric, and paper look less like fine art than a scandal. Yet he took pleasure in their rhythms and colors. He sought neither the shimmer of plastic cups for Tara Donovan nor the bad boy stance of trash art for Michael Smith and Mike Kelly. He was older than they—old enough to play by the rules that he was breaking.
He was also enough of a formalist to shy away from making statements. He found the trash near his home in the United Arab Emirates, and he paints one grid on carpet, like far older Islamic art. A wall painting of another grid with one side of each square thickening at the middle might almost depict barbed wire—and so might a twisted rectangle of copper wire. Yet he shied away from political art, whether as nationalism or activism. The piles may have something to say about consumer culture, or they might not. He admired Marcel Duchamp, and his whole work looks a bit like Minimalism through the eyes of Dada.
One floor piece appeared in a 2014 show of Arab art called "Here and Elsewhere," and that label suits him, too. Born in Iran, he grew up in Dubai and studied art in England, but with an obvious eye on Paris and New York. Back in the Emirates in 1982, he lived at first outside Dubai as if ill at ease anywhere near the center of attention. Celebrated at home, he could pass for just another half-neglected westerner—and nowhere near the most pressing. You may think that you have seen this show before. It hardly helps that it must leave out the more colorful performances and displays in favor of the semi-systems.
Still, it illuminates the underlying logic or illogic of other shows past and present. It puts the semiotics in his semi-systems. It comes alive most, too, when it becomes most material. The beams look so weathered or polished and the wire so intricate or threatening that one may never get around to looking for a system. Coiled springs from 2016 take shape under the influence of gravity, but Sharif also arranges them in nine staggered fields like aprons or shields. So what if the squares have lost their magic?
Read more, now in a feature-length article on this site.