I can grow so bored by On Kawara that I never stop to ask: is he bored, too?
Does he ever get so sick and tired of painting the date in plain block letters on a plain colored field, to the point that it becomes an obligation? Or is it rather a relief to have a still point in a turning world—or just a way of life? Is the act of painting as ordinary for him as a walk around the block and a glimpse of the sky? Does it make every day at once part of an ongoing chain of thoughts and a fresh start?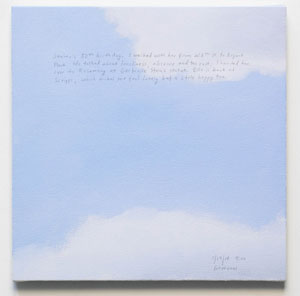 Byron Kim must feel all of the above by now. Every Sunday for more than seventeen years, he has devoted a square just fourteen inches on a side to a patch of sky with nary an airplane, apartment tower, or telephone pole in sight. The "Sunday Paintings" range from light blue to a cloudy white. Then he adds the date, time, location, and whatever else crosses his mind, in pen or pencil. Anyone can do the math to see that the series is approaching nine hundred paintings, and almost no one will follow every word in a selection of roughly a hundred, at James Cohan through February 17. Still, dipping in and out will make them part of your chain of thought, too—and I have added this to earlier reports of simple pleasures in paintings by Michael Hurson and Laura Owens, as a longer review and my latest upload.
They have obvious affinities with abstraction or color studies, like squares for Josef Albers, and Kim did appear a decade ago in "Color Chart" at the Museum of Modern Art. Their mundane subject recalls his choice then of skin tones. They also fall in a tradition of precise notes of the weather by landscape painters and of cloud studies by John Constable, but without the painstaking complexity. After seeing Constable sketches more than twenty years ago, I wrote that he handles clouds like portraits of dear, departed friends. Kim handles them more as elements in an unfolding self-portrait. He adds a new work each week over the course of the show.
For a while the inscription covered a separate strip at the bottom of the canvas, but now it can fall anywhere, as the sky and his thoughts have become one. Locations like Gowanus are a reminder that Kim also appeared in "Open House," a show of Brooklyn painters. The rest of the words spin off into the triumphs and stresses of family, friends, and politics, from pleasure in the first black president to the shock of a Sanders supporter after a year of Donald J. Trump—and from the comforts of familiars to fears of letting them down. They can read like a Facebook entry, a haiku, or a secret. New Yorkers who frequent art galleries are likely to recognize themselves as well. Artists frustrated by the system can, for a moment, almost feel at home.
Sunday paintings demand regular habits and stern promises. When Kim misses a week, he notes it the next time with regret. Yet they also suggest time off from work. Instead of muddying or challenging abstraction and representation, he can embrace both. Instead of charting colors, he can let them fall where they may. He can accept failure along the way, much as in relationships. Whatever else, there is always another Sunday.
The series may have come to him as a new beginning. It starts on January 7, 2001—the first weekend of a new year and a new millennium. For those less into grand pronouncements, it was also just another day. A need for reassurance may account as well for the cheery palette, even when Hurricane Sandy darkened galleries. Kawara must have felt the same need, as in a series of nearly a thousand telegrams, each with the very same text: I AM STILL ALIVE.
Read more, now in a feature-length article on this site.