If there is one small compensation for the encroaching darkness, it is that the lights come on early. On those chill winter days, with evenings fallen into night and late afternoons stolen away, horizons shrink as well. Even for a determined New Yorker, the closest friend or the next gallery can seem ever so far away.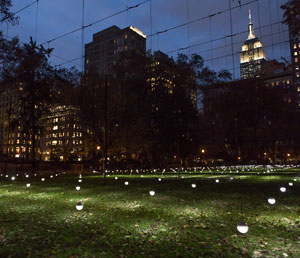 Still, early sunsets have their privileges. They fall within museum hours, so that James Turrell can open the ceiling of MoMA PS1 as Meeting, for visitors willing to sit for a while and to brave the cold. Contemplating his "skyscape" and its changing light takes time, but then its message is that light and time take contemplation.
Erwin Redl rewards patience, too, in Madison Square Park until the very first days of spring, and summer sculpture has nothing on this. In contrast to California's Light and Space artists like Turrell, with their altered environments and natural light, Redl make use of the found environment and artificial lights. He identifies with earthworks, but without moving earth at all. Those in search of Whiteout, through March 25, may enter the park wondering whether they have found it. The title puns on "lights out" and erasure, but the lights keep coming on. They began a few days before the nearby Christmas tree, but already they had plenty of company.
Even from across the street at night, the park glows. New technologies, ample funding, and ecological awareness have lined its paths with quaint enough lampposts and near orange light bulbs. Decorative lights wrap the posts as well—but then Redl did bring a Matrix of tree-ornament lights to the 2002 Whitney Biennial. Other lights shine in the park's fountains, in the windows of surrounding buildings, or atop the Empire State Building. They make the park seem green even in winter. They could all be part of the show.
Keep going, though, and art is just where it is supposed to be. When I reached the central lawn, fenced off in winter to replenish the soil, it was one huge field of light. When I found the placard introducing the work, it had gone dark, but before I had finished reading it was light again. Hundreds of bulbs in orderly rows rest just over a foot off the ground. They visually reshape the lawn as a large rectangle much like a football field—or, rather, two fields side by side with their illumination out of sync. This could be the halftime show, but it does not begin or end all at once.
Its rhythms are all part of the game. From the moment of full lighting, the north end of a field begins to darken, and the darkness marches across one row at a time. When it reaches the south end,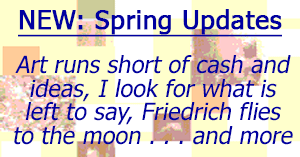 the north begins to brighten once more. Come back the next day, and the bulbs blend into sunlight. They also, though, become material objects at the center of small translucent spheres, and the work's construction becomes part of its rhythm, too. It looks less mysterious than at night, but its plainness is worth contemplating, too.
The spheres hang down from a network of wires and tall black poles that also supply electricity. Their changing points of light become equal elements in a grid, as in a canvas for Agnes Martin. They also sway like pendulums in, to quote Robert Burns, "bleak December winds," but in no discernible pattern. Redl has employed LEDs before in a supposed perpetual-motion machine, but physics had the last word then as now. As Burns concluded, so much for "the best laid schemes of mice and men." Beware of darkness.
Read more, now in a feature-length article on this site.