Quite a bit closing soon, so allow me extra posts today and Thursday to come closer to keeping up. Those and tomorrow's will all look at MoMA PS1, starting with the star of the shows.
"Living is much more consuming than I ever thought it would be." The quote comes from dozens on colored cards, culled from diaries and advice from friends, as Carolee Schneemann sought to work out her feelings toward the men in her life.
One can see her whole career as an unfolding diary or performance, at MoMA PS1 through March 11, but do not go expecting a romance novel or true confessions. (I elaborate further in a longer review, as my latest upload, so if you miss your favorite of hers here, do read more.)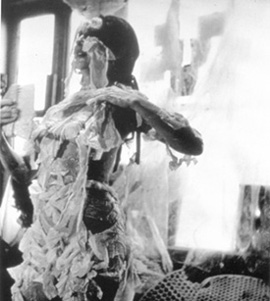 Rather, it acquires its edge from the blunt collision between the frankness and privacy of a diary and the artifice and publicity of a performance. Which will win out? To answer would be like looking back and asking which of the men.
The quote (attributed to "Susan") says much about Schneemann, too. She wants to convey it all, from birth to death, with plenty of nudity and sex along the way. If she is shocking, she is open to surprises, too, just as in that line. She is also both consuming and consumed, just as in sex, while spilling herself out as art. In her most famous act, she extracts a feminist tract from her vagina. She has something to say, especially to those who would reduce her to that body part, and she contains multitudes.
Her sixty years of work can be funny, exhilarating, surprising, dogmatic, self-involved, or infuriating. Less than ten years ago, her gallery pulled off the highlights. It insisted on her origins as a painter, very much in line with Abstract Expressionism—thick, colorful, and all over. Even then, she had none of the softer color fields of Joan Mitchell and Helen Frankenthaler, because she was looking not outward, toward landscape and a woman's art, but to the enclosed space around herself. The show asked how she turned from painting to performance, with her body as a canvas (so do check out my review then for more). Now her retrospective asks much the same with its title, "Kinetic Painting."
Has it anything to add? If nothing else, it is larger, spilling over two half floors of the former schoolhouse. It starts, it announces, with her later work—to prove, no doubt, that she is more than her vagina. The first floor focuses on the 1970s and 1980s, as a kind of orientation. The second floor then fills in the gaps. It has two whole rooms for painting, one with her beginnings and the other (coming first) with brighter canvases often turned forty-five degrees and a shelf for unspooled audiotape. She is still painting but looking for a way out.
The first floor, too, opens with a painting, but one has to look past it to a darker room and film. Fuses from 1967 catches her in the sex act with a long-time lover, James Tenney—as seen, she claims, by her cat, Kitch. Its point of view is close, twisting, and unnerving, much like the act. It also intercuts with Schneemann on the beach, running through the water's edge, and with the raw marks of scratched and exposed film. It already states the parameters of dark and light, earnest and funny, confessional and cinematic, alone and fused. Everything follows from there.
One remembers her pulling a scroll from her vagina in 1975 and her body collage from ten years earlier for good reason: she was, for once or twice, direct and clear. The rest, though, still add up to a running theater and a life. It views itself through past performances, with an entire room of monitors like a video forest. It has its joys and, in 1963, its Thirty-Six Transformative Actions. It has the humor of text from the 1980s, in which her vulva reads Jacques Lacan, Mastera and Johnson, and more "theory"—only to find itself reduced to forces and physiology beyond her control. It wants ever so much to be all-consuming, and often enough it is.
Read more, now in a feature-length article on this site.