And so a quiet has come to the Guggenheim—and to "Art and China After 1989." The pigs are no longer copulating for the camera. The gibberish stamped on each, in the Western alphabet on one and in pretend Chinese on the other, can no longer reduce Sino-American relations to nonsense or lust. The prurient male viewer will have to settle for himself as a sexist pig.
The pit bulls are no longer charging at each other, again on video, for the chance to maul or to kill. The treadmills that kept them inches apart have stopped, although the metaphorical treadmill of a Chinese factory worker continues, along with confrontation in the Pacific Rim.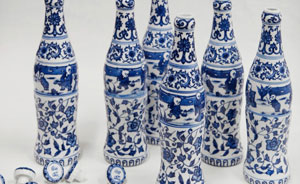 The monitor that marked the show's conclusion has gone dark. Angry voices on both sides only multiply, decrying the abuse of animals or censorship. And so they should—only now they can start asking which most typifies museum politics or China. In withdrawing the disputed works, the Guggenheim has left the monitors in place and added artist statements that raise much the same issues, through January 7.
The work that opened the show and gave it its name has gone, too. The insects and lizards of Theater of the World have departed, and so have the live snakes that would have shared a separate cage above with bronze animals out of Chinese myth. Or rather, they never arrived, leaving only a stately metal bridge over an empty wooden theater in the round. Nor will the creatures meant to replace them as they die under the heat of museum lights. The set has taken on an air of meditation more fitting to Chinese art of the past. The entire show should have one asking what that says about the loud, courageous, and often superficial art of the present.
No bull (or pit bull), but those three works threatened to overshadow the rest of the show, and they may still. To my mind, the Guggenheim made the right call in exhibiting not them but the controversy, and I do intend to weigh in, as you will see in a post next time. First, though, one had better get a handle on the show. It covers just twenty years, from the Tiananmen Square massacre to the Beijing Olympics in 2008, but it is about contemporary artists and events all the same. It may overwhelm visitors with a huge back story and unfamiliar names. Yet those same three works help pin down its themes, as I explain more fully in a longer review and my latest upload.
First off, they are crying for attention—and getting it. It appears in a mammoth black dragon in the rotunda overhead by Chen Zhen, with the head of crushed bicycles, the body of a seed case, and a tail of inner tubes and plastic cars. It appears in Mickey Mouse toys, helium balloons, a bathtub, and a Mylar bed by Xu Tan—all, of course, made in China. It appears in the sheer futility of a performance by Cang Xin and others, To Add One Meter to an Anonymous Mountain, or by Song Dong, Stamping the Water. Visitors may respond with wonder or frustration, but one thing is certain: I get the message.
Yet this is political art, and its message sounds a lot less frustrating in light of its politics. The three disputed works concern entrapment and scrutiny by a higher power. A newscaster reading the definition of water for Zhang Peili makes more sense if you know that she recited the party line on Tiananmen Square. And the tanks that day still roll for Zheng Guogu, if only in deep-fried plastic. Painting is rare, apart from a surge of realism in the early 1990s, virtually all of it colored by German Expressionism—like a meat locker for Zeng Fanzhi and a dreary New Year's Eve for Zhang Xiaogang. Still, the message is often oblique, as may befit dreams of fine art or life under censorship.
By the same token, their art has roots in both east and west. Wang Guangyi digs a tunnel in his living room, as if to bring them together, while Zhang Hongtu adds his Warning: You Are Still Traveling in the United States. It is no accident that Huang Yong Ping calls his creepy-crawly habitat, first exhibited in 1993, a theater not of China but the world. Yet that bridge between east and west is a displacement as well. In all these ways, from politics to culture, artists still have to wonder what to call home.
Read more, now in a feature-length article on this site.