Just how good are they? With so many claims for major rediscoveries, some quite valid, it may seem defensive to wonder. Still, the question keeps nagging at me every time I delight in a discovery myself.
I hate to ask for another reason as well: I favor criticism that illuminates rather than judges. I want to give others the grounds to decide for themselves. I have to admit, though, that I am as subject to the excitement of discovery as anyone else—and as subject to doubts. At least two shows have had my moods swinging wildly. Maybe that is because they concern a favorite subject, postwar abstraction.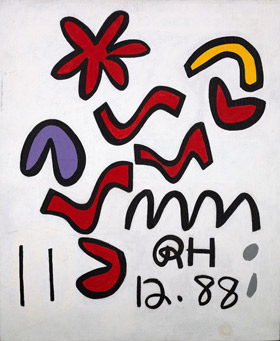 While artists hoping for success fear a bias toward the tried and true, they live in a time of upheaval. Museums are looking beyond white male Americans, while galleries are rediscovering older artists, even as they tout the new. Often as not, too, these trends come together. They do with renewed attention to South American women in the twentieth century, from Tarsila do Amaral to Lygia Pape. At least one Chelsea gallery, though, prefers New York's hidden history. Take its last two shows, John Opper and Raymond Hendler at Berry Campbell.
Both started early, just past the peak of Abstract Expressionism, and both took time to settle down. Opper seemed at last to have absorbed his friends and influences, and his show covered just a few years around 1970, through March 10. He began to distill his gestures down to strong verticals. Oil soaks into the canvas and depends on that for its sense of stasis. The lozenges play the role of rectangles for Mark Rothko and share his early yellows and reds, before Rothko's turn almost to black. As the edges soften, the shapes swell outward and become more luminous.
Where Opper was settling down, Hendler was shaking things up. His show covers fifty years, up to his death in 1998. The early painting, though, comes almost as an afterthought, with good reason. A few small works in the back room, through April 14, look dark and clotted. He actually grew more gestural in the 1970s, just when art was moving the other way thanks to Minimalism. Yet he, too, was boiling his gestures down—only to thick black squiggles and a few blasts of cartoon color against mostly white. Where Opper moved toward color-field painting, Hendler skipped right past it on the way to finding his signature.
He did so literally at that. He signed and dated his paintings as an equal part of the work. The month and year look as bold as the more abstract squiggles. Where Philip Guston abandoned Abstract Expressionism for a comic-strip flair akin to Pop Art, Hendler found a way to merge the two. If Opper had me both loving and hating that I had seen what he did before, Hendler has me smiling at something long overdue. It also connects him to more contemporary work, from text art and dated panels to graffiti.
And then the doubts keep creeping back. Neither artist gets over the arbitrary placement of gesture and color, and no one can be the next Rothko or Guston. Maybe the first trend, toward gender and multiculturalism, stems from politics and the second, for older artists, from markets looking for something big. And we know how crass markets are—and how easily manipulated. Is that altogether bad, despite postmodern critiques of cultural dominance? Maybe it is a good thing that I am having trouble judging.
Read more, now in a feature-length article on this site.