Just weeks before his death, with his fate very much on his mind, Caravaggio painted the death of a saint. Do not, though, expect special pleading on his behalf. With "Caravaggio's Last Two Paintings," at the Met through July 9, there is more than enough guilt to go around.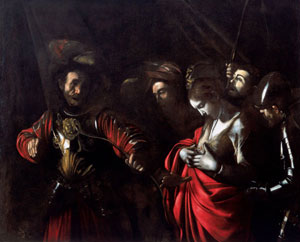 With Michelangelo Merisi, or Caravaggio, there is always enough guilt to go around—and it is the subject of a longer and fuller review in my latest upload. Maybe you know him from his early work, when he did more than anyone to invent the Baroque, along with just a handful of other artists. The wildness and excess of the late Renaissance become a greater dynamism—focused on fewer bodies, cleaner narratives, a greater command of light and space, a deeper insight into the mind, and a direct address to the viewer. They changed how anyone looked at painting, as much as the early Renaissance or modern art. They changed, too, how people saw themselves, as secular beings now personally involved in the action. This art can make anyone feel guilty as well.
Already in the 1590s, his actors stop just short of pleading guilty. The Card Sharps initiates a whole genre, with a scene of taking in the innocent. And a boy with a basket of fruit or Bacchus holding out a glass of wine shifts the subject of temptation to the viewer. That temptation also happens to include sexual beings as well as what they hold. Even at his most sunlit and lyrical, with Rest on the Flight to Egypt, Caravaggio foregrounds an angel's exposed leg, caressed by light. One can turn to a far darker late work, of John the Baptist with his smile long gone and his majestic robe still more revealing, and wonder how far the guilt has struck home.
One can never know for sure the cause of his death, although he did come down with a malignant fever—and maybe his pursuers finally caught up with him. One can never know, too, the order of his late work. Documents attest to commissions, but with ample room for guesswork. When a show claims his last two paintings, then, watch out for hype and careerism. And the Met has a history of both, although they come with the territory for a museum these days, in search of another blockbuster. The paintings hang in a room otherwise unchanged, to assert their influence.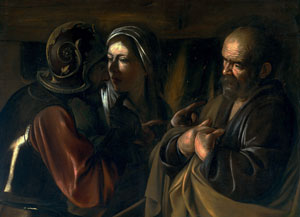 For all that they demand close attention, all the more so since both came to light in just the last decades. Caravaggio's last work, many agree, does indeed show the death of a saint—The Martyrdom of Saint Ursula, on loan from a private collection in Naples. The Met places it next to The Denial of Saint Peter from its own holdings. Other candidates for near to last work include a version of Saint John and David with the head of Goliath, both in the Borghese in Rome. The head, bearing Goliath's horror and pain at the moment of death, is the image of Caravaggio himself. There is still enough guilt to go around.
Maybe you vaguely remember the legend of Ursula and the eleven thousand virgins. (Talk about Mannerism and excess.) When she refused the advances of a pagan king, he slew them all. Even Ludovico Carracci, another reformer on the way to the Baroque, paints quite a scene. Instead, Caravaggio pares the killers back to a single soldier and the king, who shoots her himself at point blank. They are so close that the arrow has gone right through her except for its tail feathers. The martyrdom of a saint has become little more than a grisly murder.
I may still relish most the early drama, piercing the darkness. The late style matches a greater moral and emotional puzzle all the same. Peter comes off sympathetic at his very worst moment, his costume the fullest in the painting and his expression the frankest. Caravaggio comes off not half badly either as a spectator of Saint Ursula. He is struggling to look, like accessories to a lynching, but then so was I. And then, in the hands of David, he is dead.
Read more, now in a feature-length article on this site.