A visitor to Bolton Landing may have felt that he had seen a ghost. David Smith had died two years before, in 1965, but his presence lingered over his studio, a converted farm in upstate New York—and over modern art.
It lingered enough that the visitor, Ralph E. Ogden, bought thirteen sculptures on the spot, as the foundation of Storm King Art Center. When I first visited years later, their presence at sunset across the art center's meadows,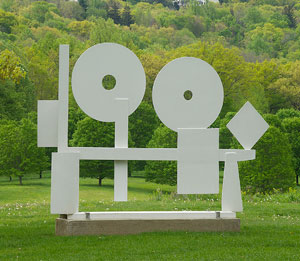 hills, and native plants helped me understand sculpture as drawing, as mass, as abstraction, as human form, and as site. Smith did, after all, title a work now in the Whitney, from 1951, Hudson River Landscape. I could not have known that, at his death, he left something more ghostly still—sculptures in white.
Now Storm King recreates their siting on its central "museum hill," through November 12, and I have added this to an earlier report on Calder mobiles as a longer review and my latest upload. The center builds a larger exhibition around a simple question: why ever are they white? Smith studied painting with Hans Hoffman at the Art Students League, like Lee Krasner and many a future Abstract Expressionist, but one rarely thinks of him as a colorist. One thinks of his art more as steel, bronze, and more steel—stainless, burnished, rusted, or painted black. He took a summer job at an auto factory and kept on welding.
That last option holds out a clue to why sculpture had seen its ghost. The show mentions that he used white as underpainting. Case closed, right? Probably, but white keeps turning up in other ways as well, on two floors of Storm King's visitor center. He applied it to metal in at least one finished work, along with what he called moon blue. He used white coral along with terra cotta, wood, and wire in some early sculpture as well.
White appears more often in other media. It appears as snowy landscapes in photographs—and as sky or reflected light in photos of sculpture titled Black White Backward. It appears as the ground for drips like those of Jackson Pollock, but with the black squeezed from a syringe. It appears, too, in works on paper akin to photograms, as Smith sprayed black enamel over components of sculpture and removed them. Taken together, the uses of white span his career. They help round out a 2006 David Smith retrospective, on his centennial, and a 2011 show of his late Cubi and spray paintings.
Storm King draws on just the eight loans and its collection, including unpainted steel. It points out Smith's debt to iron sculpture by Julio González—and so to Pablo Picasso. Unlike past shows of Tomás Saraceno, and Thomas Houseago, and Josephine Halvorson, it leaves the rest of its grounds to others, with the side benefit of extending Smith's presence. They include his wife, Dorothy Dehner, as well as George Rickey, Alexander Liberman, Mark di Suvero, and Joel Shapiro. The white sculpture comes across as bright, firm, and less ghostly after all. It could almost make Smith a colorist after all.
Heather Hart has a commission in the opposite direction, lost in the woods. Hart sets down an attic and roof, as if blown there like home in The Wizard of Oz. Hart has gone in the past for a woman's presence, through crocheting, and the presences of others, through found poetry and recipes. Here she treats the building to performances and recorded testimonials, as The Oracle of Lacuna. One can enter to hear about neighboring towns—or forget the heavy talk and clamber over the roof. The red wood and tar can serve as a playground or an echo of sculpture's red and black steel.
I could have traveled up the Hudson Valley just to see the David Smith I knew. I would have found him at his closest to Surrealism, with Iron Woman. I would have found him at his most minimal, with Five Units Equal—or, with works like Tanktotem, everything in between. I would have caught Calder at his most static along the way. The Arch could almost serve as an entrance to Storm King's five hundred acres. After Abstract Expressionism, can sculpture sit so still?
Read more, now in a feature-length article on this site.