Je ne demande plus qu'à sentir mon cerveau: for Antonin Artaud, "I ask no more than to feel my brain."
Can art, too, ask no more? In 1972, Nancy Spero created her Codex Artaud. On its thirty-three scrolls, the words of the French poet and playwright float amid crude figures in a field of white, in a desperate attempt to recover sensation. For "Delirious: Art at the Limits of Reason," contemporary art is still emerging from a clinical disorder.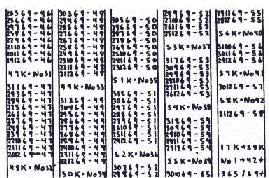 Let me tell you about the 1960s. In art, it was a culmination of everything rational and modern—in formalism, spareness, and the logic of the grid. For others, it was the summer of love. It was a time of expanded opportunities and long overdue demands, most especially for blacks and women. When the logic shattered and the love gave out, in the 1970s, the horizons could only expand still further, taking in Latin American art and the resurgent individualism of Neo-Expressionism. The cynicism of the 1980s was still to come.
Or is that all a lie? The Met Breuer, through January 14, sees only art in the throes of a bad trip, and I have added this to previous reports on art and madness as a longer review for my latest upload. The show divides into four sections as "Vertigo," "Nonsense," "Twisted," and "Excess," to locate the breakdown in drugs, language, physical sensation, and the very impulse to abstraction that had promised so much clarity. It includes dark voices speaking for the oppressed like Spero or Nancy Grossman, but also the cheery spectacle of Yayoi Kusama. It includes the Post-Minimalism and body parts of Paul Thek, Bruce Nauman, and Eva Hesse—but also the Minimalism of Sol LeWitt and Al Loving, the Pop Art of Claes Oldenburg and Philip Guston, the cartoons of Jim Nutt and Peter Saul, and the experimental videos of Gary Hill and Stan VanDerBeek. By the time you exit, you, too, may be delirious.
It starts innocently enough, with what looks like standard fare in abstraction, including Loving. Yet he has peeled and flattened a cube, much as Agnes Denes seeks alternative projections of the 3D geometry of planet earth. The next room brings in Robert Smithson, who devoted himself to entropy, and Lygia Clark, for whom The Inside Is the Outside. Grids include LeWitt, but also Dara Birnbaum with clips from The Hollywood Squares, Andy Warhol with Electric Chair, and Paul Sharits with Cellular Disorder. The terrors of the body are already in evidence, even before Anna Maria Maiolino presses her mouth to the camera and Ana Mendieta her cheeks to glass. For artists like these, delirium means abjection.
The breakdown of language begins with Léon Ferrari and his Tower of Babel in wire, tin, and lead. It includes VanDerBeek's fragmented poetry and Mira Schendel, with unreadable graffiti. And it all gets an unhealthy boost from drugs, only starting with a book by Timothy Leary. Lee Lozano declares herself Stoned Drunk Sober, Henri Michaux has his Mescaline Drawing, and Dan Graham charts the side-effects. When Carolee Schneemann confronts the atrocities in Vietnam in grainy film, she takes as her soundtrack the Beatles and "We Can Work It Out," because she no longer can. Still, something gets lost in the fever dream.
Museums are feeling a welcome pressure to display the permanent collection, after so many blockbusters and wasted atriums. They are also feeling the pressure to keep up with contemporary art—which is, after all, what drew the Met to lose money by taking over the Met Breuer. Here it borrows two-thirds of the show, but the same factors are at work. Is it fair to the period and to art? As curator, Kelly Baum includes too many lesser artists and unrepresentative work. She also needs way too much wall text to fit it all into a thesis, but it breaks away, often movingly, all the same.
To force the work into excess, the show has to separate Warhol's electric chair and Saul's by an entire floor. It also has to see disintegration, where a collector like Hanne Darboven or a black woman in abstraction like Howardena Pindell saw freedom—or where Jennifer Bartlett saw Rhapsody. It includes illustrations by LeWitt and Jasper Johns with text by Samuel Beckett, but does that reduce them all to apostles of nonmeaning? As its saving grace, the show eats away at the distinction between Minimalism and Post-Minimalism, along with the privilege of the prosaic. For Smithson, "Here language 'closes' rather than 'discloses' doors to utilitarian interpretations." Yet it allowed him to open doors to perception.
Read more, now in a feature-length article on this site.