The revival of painting has a serious down side: it becomes hard to choose. When anything goes, who is to say what matters? How can any artist leave a signature, when the very idea of authenticity has taken a decades long beating?
Still, the sheer lack of firm directions allows abstraction to cross boundaries in genres and media—and critics like me to make guilty choices. Call everything out there derivative art if you like, but then it has plenty to draw on, or call it "zombie formalism," but then the dead can walk again.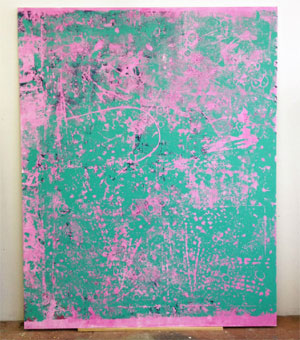 Two years back, Jackie Saccoccio and Stephen Maine offered a study in contrasts in all-over painting. And Saccoccio still invites comparison to Jackson Pollock, at 11R through April 30, but her canvas has come more and more off the floor. It also combines oil and mica, with small strokes that approach circuit diagrams in their fixity, brushed onto larger splashes of color. She also turns to paper on much the same scale, in what is hard not to call painting. Gouache and ink spill into one another, for a continued play of fluidity and line. Both series make ample use of the ground, whether the weave of canvas or the white of paper.
Maine still pursues a kind of relief printmaking, at Hionas through April 30, with plates the size of canvas and with all sorts of materials in place of wood. They leave quite an impression, with cracks and ripples in their acrylic layers. They also push more determinedly than ever to the edge of the canvas. Speaking of a printer's blocks, does Sean Scully in his seventies still make oil look like brickwork? Now his work admits as much, with "Wall of Light Cubed" at Cheim & Read through May 20. Some paintings depart from two dimensions through illusion, adding angled planes to the edge of his gridded rectangles, while sculpture takes the stacked colors into the center of a room.
Like Saccoccio, Michael Rouillard works between line and color—and, like Scully, between Minimalism and illusion. His paintings depart from white only with slim verticals and horizontals that cross at regular intervals, sometimes with thinner and darker lines at their center becoming darker still where they meet. Together, they transform the gallery walls into layers of white, at Pablo's Birthday through April 23. He has also been drawing on paper torn from spiral notebooks until they fill the sheet with a near uniform blackness, much as Callum Innes uses small gestures to create simple monochromes at Sean Kelly through April 29. The torn edges serve as drawing, while the drawing serves as painting and the long row of sheets as installation. After twenty-four years and one hundred sheets, he may finally be calling it a wrap.
Erin O'Keefe looks back to an earlier Modernism, at Denny through May 14. Overlapping planes have the jagged or curved edges of the transition to abstraction in Fernand Léger and Francis Picabia. They do not, though, look at all like bodies in motion. Rather, they sit still for good reason: a lighter touch and greater gradation of tone allows the planes to concentrate light. The effect is all the more striking in two paintings that stick to black and white.
Other work departs further from Cubism to focus that much more on the glow. The easel scale and near uniform dimensions of her work brings out the shared interest in color and light. In one, a bubble appears tucked into the corner of a room. In another, a strip folded twice seems to float in space. It looks almost like a computer graphic. O'Keefe's compositions and colors can seem arbitrary, but they underscore how abstraction is still learning from both modern art and the present.
Read more, now in a feature-length article on this site.