Before Memphis in Italy, there was Olivetti. Before the most postmodern of design collectives, there was the firm that produced hypermodern technology—from typewriters to the first programmable desktop computer. Olivetti did so with style, too, well before Apple, and it hired Ettore Sottsass as a design consultant in 1958. The Met Breuer claims him for not just Memphis, which he helped found in 1981, but for sixty years as a "design radical," through October 8—and it is the subject of a longer and fuller review as my latest upload.
Americans may have forgotten him, but Sottsass started his studio in 1957, at age thirty, and moved to New York the next year to work for the firm of George Nelson. That brought him to the attention of Olivetti, which hired him as a design consultant on its mainframe—the first in Italy.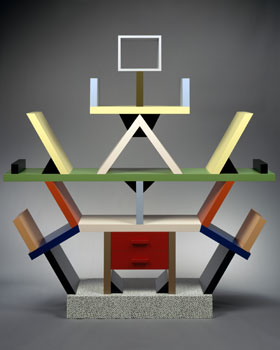 He had time for more, though, and the first sign of his mature work comes with a portable typewriter. Critics have derided Memphis for cuteness and tackiness, quotation and obscurity, and products for the rich alongside talk of design for everyone. Fans have embraced it for eclecticism, color, and an insistence on design as a matter of not just style, but "ways of living." And one can see all of these in the typewriter that quickly became a fashion accessory.
Sottsass grew up in Turin, near where Olivetti had its headquarters, and he wanted others to feel at home as well. He made that typewriter light and portable, with a slip-on case as a carrier. Both are fire-engine red, the color of toy trucks. "You don't save your soul," he said, "just painting everything in white." He had taken a basic tool of office work and made it more efficient. Yet he also made it a work of art, a work of the soul, and a matter of play.
The colors keep coming, and so does the eccentric assemblage of simple parts. Even in the 1960s, tables and shelves fly off in all sorts of directions, whether stacked or cantilevered. Color appears from the start, too, with a chest of drawers in acid yellow—a tribute to Austrian Expressionism, but with a greater delight in excess. t appears as well in patterned tapestry, table settings, and clunky necklaces in red, yellow, black, white, and blue. "Everything in white" applies not just to Minimalism in painting, as with Robert Ryman, but also to architecture from Le Corbusier to Brutalism and Louis Kahn. Sottsass and Memphis wanted none of it.
Not everyone is out to save souls, especially in mass production. Olivetti declined to make much of the typewriter, and Sottsass soon moved on. He did worry about souls, though, big time. Those yellow drawers form a cross after the floor plan of a church by Otto Wagner in Vienna. He also visited India in 1961, and he could not get enough of hoary civilizations. He modeled cabinets, glass, and ceramics on reliquaries, totems, funeral mounds, and symbols of enduring life. His retrospective becomes a vocabulary lesson out of more cultures than I can say.
The show becomes a massive puzzle, just as some of the furniture seems in need of assembly. Seemingly everything turns up, needed or not, including all those global cultures. A room for "Superboxes" has a tall cabinet at its center, in a stark gray and black—but also Egyptian archaeology, the Wiener Werkstätte (or Vienna Workshop) of 1903, Donald Judd, and a contemporary Italian's striped ziggurat. You may find yourself asking what belongs to Sottsass. What continent is this anyway? What decade or what millennium?
That eclecticism still has its lessons, though, and so does the fear for market forces and modern life. So, too, do the wild colors, defiant masses, and broken symmetries. Their influence shines in the exhibition poster, with staggered pairs of letters from Sottsass—all the more so after the much derided redesign of the Met's logo. The fire still burns, too, in that portable typewriter and its fire-engine red. Could Sottsass have known that you would want a colorful case for your phone? Could he have known that you would want to take your laptop or tablet with you on the train or to the beach?
Read more, now in a feature-length article on this site.