The Met has the arts of Africa, Oceania, and the Americas and the American Museum of Natural History its special collections. Only the Drawing Center, though, has a department of tropical research.
At least it does through July 16, and its exhibition is an act of the imagination, but the department and the research are real. William Beebe directed them for over thirty years, on behalf of the New York Zoological Society—now the Wildlife Conservation Society. As the Center puts it, he "took the lab into the jungle, rather than the jungle to the lab."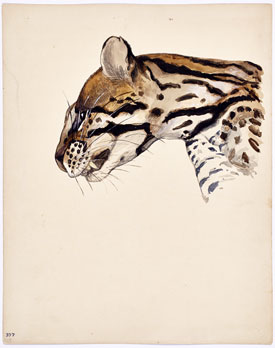 And now, more than fifty years after his death, he has taken it to Soho. It has taken in some artifice by Mark Dion along the way.
"Exploratory Works" lays out its history, with maps, documents, and period equipment. As curators, Dion, Katherine McLeod, and Madeleine Thompson bring these and more together in a tall cabinet and a recreation of its field station. They include a film of the research team poised to take their floating laboratory to the rivers and sea—in a bathysphere and along the coast of South America. Most of all, they set out the product of its research, in the form of watercolors of tropical life. The show gains relevance today thanks to global warming and Donald J. Trump, as scientists march for their and the planet's future. It has added punch, too, because women did so much of the drawing.
Some of the names are lost, including both artists and species, but Isabel Cooper helped get things moving when she joined Beebe in 1919. They show the world less as "dog eat dog" than as animal life struts its stuff. A tiger for Cooper, as for William Blake, is burning bright, while ocean sunfish for Else Bostelmann appear to smile or to cower—even as a viper fish swoops in with its saber-toothed jaws. The stomach contents of another deep-sea fish, notoriously larger than the fish itself at rest, seem to be getting along just fine. Plants or invertebrates make an appearance only as a backdrop to the exotic display of color and motion. An insect for George Swanson Carpito may be feeding on a leaf, but the leaf seems to be deepening its pink and purple on behalf of the bug.
Then, too, there is another element of their symbiosis and the ecosystem, in Dion. The field station looks more convincing than many of the drawings, but he has pretty much made it up. It has a full wall where one can linger but not enter. It also has the clutter and quaintness of his Curiosity Shop, again at the intersection of art and science. Like Beebe, he has made art from the space between sea and shore, with his Thames Dig, and he has gone deep with his Rescue Archaeology. He has to like a project in which the same individuals served as lead scientists and field artists.
The entire exhibition may have one wondering what counts as science or art. Is the Drawing Center taking on the job of a natural history museum for a change? And is it doing so because that, too, is an aspect of drawing—or because the drawings are so vivid as art? (Cooper took pride in her Japanese brushes and spoke of a "tapestried" lizard.) Or is it doing so because they have become part of an installation by a living artist? One may wonder whether watercolors can do the job of science at all.
Of course, Beebe could not rely on color photography back then, especially in the field. And scientific drawings have a long history, including Leonardo when he had given up painting and Albrecht Dürer when he saw his work as art. Art and science, I have argued, can meet in more than one way. Art can take science as its subject, as with science fiction, or as the tools of its trade, as with color charts and Post-Impressionism. It can aspire to the study of nature, like science, or explore science as itself a mode of representation. The best side of "Exploratory Works" lies, like its title, in the plural.
Read more, now in a feature-length article on this site.